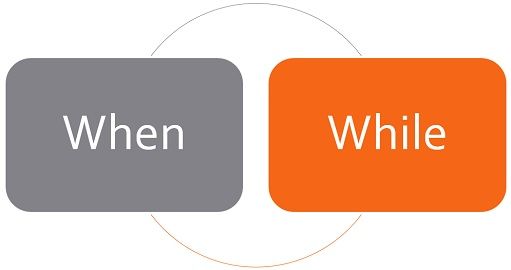 'When' and 'While' are often juxtaposed when we are talking about actions or events that take place simultaneously or even when you are discussing something that happened previously, and you are like, 'that time it happened'. So, you must be aware that both the words are somewhat related to time and action. When implies at or during which time, whereas while represents at the same time. Let's take a look at these examples to understand the two:
Alan was playing while we were completing our homework. Now, when we are watching TV, he is studying.
Sarah requested to meet Joe when he was in London. But, she met an accident while she was going to meet him.
In these two sentences, we have used when and while at different places. While indicates during, whereas when implies at that time, in both the cases.
Content: When Vs While
Comparison Chart
Basis for Comparison
When
While
Meaning
When refers to at what time. It can also be used to talk about age or a specific period of life.
While means during that time.
Action
There are two single actions, one is long and other is short, or both are short.
Two long continuous actions takes place concurrently.
Time
The actions should either occur at the same time, or one action immediately follows another.
Both actions should occur at the same time.
Interrogative sentences
Yes
No
Represent contrast
No
Yes
Examples
The audience laughed when the host cracked a joke.
The patient stayed quiet, while the doctor examined her.
When I was 18, I used to play hockey.
My father listens music while he does his work.
It was 8'0 clock when I got home.
It started to rain while I was leaving for the office.
Definition of When
When is an adverb and conjunction, which means at what time? It can also be used to add a single completed action, intervening a longer action.
Further, based on the usage in a sentence, it can also be used in other contexts, like it may mean 'at the same time' or 'immediately after'. Have a look at these examples to understand the use of 'when' in a better way:
To indicate a certain time/occasion at which an action takes place:

I met Mr Robert when I was studying in New York.
The teacher smiled when she saw me.

Considering:

It is needless to say sorry again when you already apologized many times.
I think we should not judge them when we do not know them.

To indicate suddenness:

He had just left, when you came.
Submit the examination sheet when you leave the class.

For things whose happening is certain:

When I go out, I will take you to the doctor.

To add a comment, review or opinion:

How can I meet him, when I am not in the town?

In the event that:

When I realized I did a big mistake, I felt sorry for the incident.

To ask at what time:

When can we meet?
Tell me when to come.
When are you going shopping?
Definition of While
When two actions or events take place side by side, we use the word while in our sentences. So, to make use of the word while in a sentence, the actions taking place should be long and continuous. Let's have a look at the points given below to understand its usage:
It reflects at the same time or during:

Tom suddenly got faint, while he was climbing the ladder.
Peter cooked food while Sara was completing her assignment.
Alex saw Amitabh Bachchan while he was coming home.
The students completed the work, while the teachers rested.
Nobody came to see him while he was in the hospital.

However:

While I am surprised by your action, I cannot show it.
While she is guilty of her mistake, she has not said sorry.

To make a comparison:

My brother earns 80K a month while I earn only 8K.
He likes to party, while I like a calm and peaceful environment.
Sarah loves Chinese food, while I prefer Italian.

For a specific period:

They came to meet Mr Batra for a while.
Key Differences Between When and While
The points given below are substantial so far as the difference between when and while is concerned:
When reflects a general relationship between two events, i.e. at the time or event that one action happens, another also happens. Conversely, While indicates a continuous state, in the sense that when two events take place simultaneously, we use 'while'.
When is used in case of two single actions takes place, wherein either both are short actions or one is short and the other is long. As against, while is used when there are two long and continuous actions going on side by side.
We use when, in case both the actions occur at the same time, or one action occurs just after another. In contrast, while is used only when the events occur at the same time.
When is a wh-word so it can be used to create interrogative sentences, so as to ask questions concerning time. On the other hand, while is not a wh-word and so it cannot be used to frame questions.
While can be used to contrast two terms, whereas when cannot be used for contrasting two terms.
Examples
When
When did the incident occur?
I entered the house when you were playing.
When my granny was young, she used to have lots of pets.
When are you going to leave for Mumbai?
When I look back, I found that I made a lot of mistakes.
While
The baby fell asleep while she was listening to the story.
I saw Joseph while I was jogging in the park.
My parents met many foreigners while they were on a world tour.
Dazy was hit by a car while she was crossing the road.
The child hurt its leg while climbing the tree.
How to remember the difference
So, you just need to focus on the nature of actions taking place, i.e. whether they are long, short or both. If both are long 'while' is used if both are short 'when' is used and if one is long and the other is short, 'when' is used. But if a long continuous action succeeds a single action, any of the two can be used. However, if a single action succeeds a continuous action, 'when' can be used only.