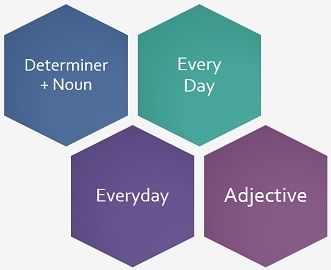 Everyday and Every day are commonly pronounced and interchanged terms, but their meanings are completely different. While Everyday refers to something which is common, regular, quotidian, normal or run of the mill (i.e. something which is not different or notable).
The term every day is used to mean every single day, day to day, or daily, i.e. it determines the frequency of something. Now let's discuss the two terms with the help of these examples:
It's been an everyday scene, which Karan goes to the orphanage every day to provide free education.
In the college, I learn something new and exciting every day, which is not an everyday thing.
In both the examples, you might have observed that everyday refers to something which is very used to, while every day implies daily.
Content: Everyday Vs Every day
Comparison Chart
Basis for Comparison
Everyday
Every day
Meaning
Everyday is a term which is used to describe, an average, ordinary, run of the mill, common thing.
Every day is nothing but an expression which implies every single day.
What is it?
Adjective
Adverbial phrase
Examples
Saying good morning to all, is an everyday activity in the office.
He goes for jogging every day.
These shoes are my everyday footwear.
She loves reading novels every day.
The argument between the politicians at the Parliament is an everyday scene.
Every day I am learning to speak French.
Definition of Everyday
The word 'everyday' is an adjective, which is most commonly used to refer to something which we are quite used to. Meaning that we apply the word when we talk about something which is often regular, ordinary, average, mundane, or which has nothing special in it.
A noun, which it describes follow it. You can understand the term better with the help of following examples:
Murders and thefts are everyday affairs in the country.
Coming late and then blaming the vehicle for it, is an everyday excuse for Peter.
I am seriously not interested in your everyday drama, said Rubina.
Student is losing their lives while taking selfies at dangerous locations is everyday news.
Pallavi started taking classes in order to avoid everyday tension.
Definition of Every day
The word 'every' is a determiner, while 'day' is a noun. When these two words are used together, it becomes an adverbial phrase, which highlights the frequency of something.
It means that the happening of an event takes place every single day or each day. It is used to reflect some activity, habit or routine performed on a day to day basis. Let's understand this with some examples:
I go to the office every day.
Every day after watching T.V., Laveena helps her mother in the kitchen.
My father loves to meet his friends every day.
While coming back from school every day, Shweta spends some time in the park.
Ritu said, she will do exercise every day from now, to reduce her weight.
Key Differences Between Everyday and Every day
The difference between everyday and every day are explained in the points given below:
Everyday is just a single word, which refers to something which is very common, ordinary, or does not have anything special in it. On the contrary, Every day is a two-word term, which means when or how frequently something occurs. It means something which takes place daily.
Everyday is an adjective, which is followed by a noun, that it talks about. As against, 'every' is a determiner and 'day' is a noun, when these two words are used together, it becomes an adverbial phrase of frequency.
Examples
Everyday
In my opinion, you should wear a designer dress for your sister's marriage and not an everyday one.
She looks angry today; it's not her everyday mood.
Peter doesn't like to spend on everyday needs.
Every day
Shruti does yoga every day, in the morning to remain fit and active.
The doctor prescribed some medicines to my father for taking them every day after lunch.
The class teacher called my father today and said, "Jimmy is not coming to school every day".
How to remember the difference
The only difference between the one-word term everyday and two-word term every day is that while the former means a common, or ordinary thing while the latter means daily.