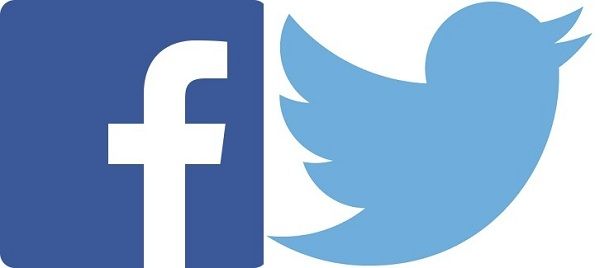 Facebook and Twitter are the two social media giants that help you to connect with a large group of people to share your views, ideas, information, news, whereabouts and other similar stuff. To compare these two social networking platforms is a bit difficult task because they are very different, and both are beneficial in their own way. While Facebook is more focused towards making social connections, Twitter is all about staying informed and updated.
If you are new to the social and virtual world, you might wonder, which online site is good for you and suits your interest? So don't worry, we have provided the fundamental differences between Facebook and Twitter that will help you to choose the platform as per your need and convenience.
Content: Facebook VS Twitter
Comparison Chart
| Basis for Comparison | Facebook | Twitter |
| --- | --- | --- |
| Meaning | Facebook is a social connectivity website that connects you with a large group of people at the same time. | A social connectivity website that you can use to post and read short messages, is known as Twitter. |
| Basic feature | It is a typical social networking, where you maintain a profile to stay connected with your friends. | It is famous for its micro blogging characteristic. |
| Founders | Mark Zuckerberg | Jack Dorsey |
| Released in | 2004 | 2006 |
| Headquarters | Menlo Park, California, USA. | San Francisco, California, USA. |
| Audience | Friends | Followers |
| Instant messaging | Yes | No |
| Content characters | Unlimited | Limited up to 140 characters. |
| Lifespan of Content | Status posted on facebook is evergreen. | Engagement with is tweet is for short term only because of frequent updates. |
| Focuses on | Social graph | Interest graph |
| Feature of playing games | Available | Unavailable |
| How users can express their views on a post? | Like, Comment and Share | Reply, Retweet and Favorite |
About Facebook
Facebook is a renowned social connectivity website where the users can register themselves and create a free account to be in touch with the friends and relatives. You can add other users to your Facebook profile just by sending them a friend request after which you can access on what's happening in their life. Not only friends and relatives but you can also add a stranger to your social circle.
You can easily, connect with thousands of people at the same time with this platform. People use this network for numerous activities like they upload photos, share links and videos, post status, share information, chatting, calling, play games, etc. It has some features like events, pages, groups and so on.
A user can limit the access of the audience on his profile with the help of privacy option. A user can unfriend specific connections and also allows you to block any person, after which your profile will be invisible to him.
About Twitter
Twitter is a social networking website where people can share information by way of the short message up to 140 characters called tweets. It allows the registered users to search for the latest news on the topics they have an interest. You can follow any other registered user by simply following him, after which his posts are visible to you.
A tweet is a text, photo or video content, described as an opinion or idea broadcasted by a registered user. It is all about social messaging or microblogging where you can express your any fact or a moment or idea which you think is useful for the public. It helps to convey the short message to numerous people at the same time. Moreover, people can show their reaction to a tweet by replying, retweeting or by adding to favourite.
Lakhs of tweets shared daily on a real-time basis by the registered members. Unregistered users are not allowed to post tweets, but they read the threads on Twitter. Twitter is a good medium that keeps you informed and updated.

Key Differences Between Facebook and Twitter
Twelve notable differences between facebook and twitter are discussed in the given below points:
Facebook is a social networking website that connects a person with a large group of people at once. Twitter is an online website that allows the registered users to read and broadcast short messages i.e. tweets.
Facebook allows all those tools that you need to connect with the people at once like you can chat, upload pictures, tell stories, share videos or links, make calls (voice & video), post and read status, etc. Conversely, Twitter is popular for its microblogging feature.
Facebook is invented by Mark Zuckerberg while Jack Dorsey is the creator of Twitter.
Facebook was launched in 2004 whereas Twitter was created in 2006.
The headquarters of Facebook was at Menlo Park, California, USA. On the other hand, Twitter headquarters is situated in San Francisco, California, USA.
In Facebook, you can be friends with your real life friends or with those who are strangers to you just by sending a friend request. In the case of Twitter,  anybody can become your follower just by following you.
Facebook enables instant messaging, but Twitter does not.
In Facebook you can post a content of any length, there is no word limit. As opposed to Twitter, where you cannot broadcast a post of more than 140 characters.
The contents posted on Facebook are long lasting as compared to Twitter where the contents have a very short life due to the real-time interaction on tweets and also because of frequent tweets on burning issues or on the subjects they are interested in.
Facebook focuses on the social graph while Twitter is concentrated towards interest graph.
You can play games on Facebook, but Twitter does not allow this feature.
Registered users can express their views on Facebook through like, comment and share options. Reply, retweet and favourite are the options available to the registered user of Twitter to express his or her views on content.
Conclusion
Facebook and Twitter are not just a social linking site, but now they are itself a brand. Both of them provides a good platform for advertising and brand promotion. It has been a second home for people. While Facebook is more popular among the young generation, Twitter is often used by famous personalities, politicians, celebrities, etc. express and share their views with the audience.