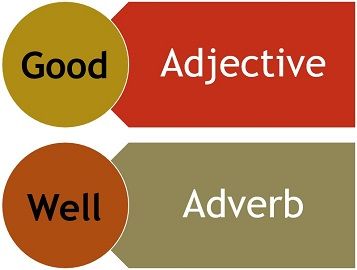 We commonly use the words good and well synonymously, but there is a thin line of demarcation between the two. When someone says "How are you?" we either say 'I am good' or we say 'I am well', both are correct, but they do not mean the same thing.
While I am good implies you are happy in your life, and everything is okay, I am well has nothing to do with happiness, as it implies that you are healthy, fit or fine. Let's take a read of these sentences to understand them correctly.
Joe performed well in the competition; he will get a good rank.
Sherin had a good time here; she is now feeling well.
In our first example, well is used to define how Joe performed in the competition and we used the word 'good' to say that he will get a satisfying rank. In the next case, we used good to talk about the wonderful time Sherin had, whereas well denotes she is feeling better.
Content: Good Vs Well
Comparison Chart
Basis for Comparison
Good
Well
Meaning
The word 'good' is used to denote fair or something of a desired quality.
The word 'well' is used to say that an action is performed in a pleasing or acceptable way.
Part of Speech
Adjective
Adverb or sometimes Adjective
Describes
A person, place, animal or any object.
An action
Examples
She is a good dancer.
She dances well.
Read some good books, for improving English.
Sophia speaks English very well.
These cookies taste really good.
This dress goes well on you.
Definition of Good
Good is an adjective, which implies that something is pleasant, positive, appropriate, right or of acceptable quality/quantity. As an adjective, it is used to give more description of a noun or a pronoun, i.e. person, place, animals and things. Let's have a look at the points below to understand where it can be used, in sentences:
It is used to refer satisfactory, convenient, pleasant or enjoyable:

Harry got some good news.
That's a good idea.
Riya and Anjali are good friends, since childhood.

To indicate high in level, standard or quality.

Is there any good gynaecologist in the town?
I am not so good at cooking food.

To greet people:
To be able to perform an activity successfully:

Paul is a good sand artist.

To refer to healthy:

Ani has been taken to the doctor, because she is not feeling good, since last night.
Definition of Well
The word 'well' is an adverb which describes the way in which something is performed. It indicates that the action has taken place 'in a satisfactory or desired manner'. It can also be used as an adjective to mean all right, fit and fine. There are specific ways in which we can use well, take a look:
To express that something has taken place in a right or desired way:

Your presentation was really well.
Albert is the only student who did well in the exams.

To indicate to a great extent:

It is a well-known fact that Mumbai is a crowded city.
How well you know him?

To reflect in addition to:

This week I am planning to go to Mathura and Vrindavan as well.
John promised me that he will take care of my belongings as well as other important stuff until I come back.

As an adjective well usually follows a linking verb like looks, seems, to imply that 'someone is in good health':
It can also be used to suggest or recommend something or criticize it:

Well, I think you should give him a second chance to prove himself.
Key Differences Between Good and Well
The points given below are noteworthy, so far as the difference between good and well is concerned:
When we regard something as 'good' we mean that thing is fair enough or possess the required standard or quality. In the other case, when we regard some activity as 'well', we mean that the action is performed in a satisfactory or acceptable manner.
While good is an adjective, well is an adverb, but it can be used as an adjective also when we talk about someone's health.
As an adjective, the word 'good' is used to describe a noun or a pronoun, i.e. a person, place, animal or object. On the other hand, as an adverb, well modifies a verb (action), an adjective or another adverb.
Examples
Good
Alan looks good in traditional outfits.
Peter is good at making art and craft items.
Carin has to study hard, to score good marks in the exams.
One can try yoga, for good health.
Well
Mr Whisley drives the car very well.
Well done! My child.
I can speak French very well.
Jimmy is a well-focused person.
How to remember the difference
The crucial difference between good and well is that while 'good' is an adjective, whose adverb counterpart is 'well'. While framing a sentence, just identify, what are you describing, if it is a 'verb' then use 'well' if it is a 'noun or pronoun' then use 'good.'