In simple terms, a hotel is an accommodation for travellers who want to have lodging through payment to the proprietor. It is initially designed for travellers to rest and sleep. Hotels may provide a range of facilities, from a bed to an almirah for storage to a spa.
Both hotels and motels are a part of the hospitality sector that provides accommodation. The hotel offers numerous amenities to its guests apart from providing accommodation facilities. However, a motel offers a layover facility to its guests to take a rest while they are on a trip.
In this post, we will talk about the difference between hotels and motels.
Content: Hotel Vs Motel
Comparison Chart
| Basis for Comparison | Hotel | Motel |
| --- | --- | --- |
| Meaning | A hotel is a place that provides lodging and food services to guests and several other amenities for a charge for a short duration of time. | A motel is a place wherein road travellers, or tourists can stay overnight and take a rest by paying a charge. |
| Structure | Well-built and designed by architects. | Simple and basic structure. |
| Floors | Multi-storeyed building. | Single or double-storey building. |
| Elevator | Yes, if there are more than two floors. | No, it has open walkways and an exterior entrance. |
| Cost | Expensive | Economical |
| Location | Situated anywhere within the city, near airports, tourist spots, sports arenas, casinos, etc. | Situated on highways or national road networks, outskirts, etc. |
| Room amenities | Room service, mini fridge, safe, toiletries, hair dryer, WIFI, etc. | Basic toiletries, bedding, towels, etc. |
What is Hotel?
Basically, a hotel is an establishment whose business is to offer food and lodging services to travellers, tourists or business persons for a charge for a short duration. It also offers a number of recreational facilities and that too for a charge. These facilities may include restaurants, bars, swimming pools, spas, salons, fitness centres, childcare, stores, social function services, banquet hall, board rooms, etc.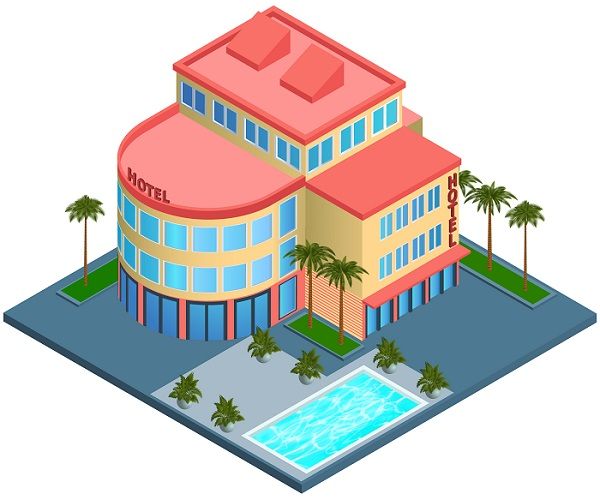 It has interior corridors that take to various rooms. It is a good alternative for convening meetings and conferences due to its sizeable facility and strategic location within the city.
Do you know?
The term 'Hotel' originated from a French word which means 'Town House'. As per British Law, a hotel is a place where travellers can get food and shelter.
Classification of Hotels on the basis of ratings
Hotels can be classified on the basis of star ratings from one to five. There is a star rating system for hotels to understand the quality of hotels and their services.
One-star hotels: These are tourist hotels and are generally small. The owner and his/her family members run such a hotel. These are low-budget hotels and provide a few services only.
Two-star hotels: are budget hotels and are usually larger than one-star hotels. They offer comfortable accommodations to tourists. The bedrooms have en-suite shower rooms. The staff is trained and professional. They are standard hotels.
Three-star hotels: These are comfortable hotels with huge staff who speak at least one foreign language. The reception is quite spacious and has other public rooms as well. All the rooms have en-suite bathrooms with toiletries. They also offer a TV set, hairdryer and telephone to the guests.
Four-star hotels: These are first-class hotels that use high-quality furniture, decorative items and equipment. The rooms are large and well-designed. It also has a huge staff that provides services 24*7. It has a lobby, laundry, dry cleaning, bar and restaurant facility. Rooms have mini-bars, and they provide access to the internet to the guests.
Five-star hotel: These luxury hotels provide spacious accommodations to their guests. The luxuries match the best international standards. Special guests are welcomed with bouquets and garlands. One can find safe boxes, air conditioners, and mini-bar in all the rooms. Suites are available in these hotels. They have a unique interior design and furniture. High quality and multi-cuisine are offered by the restaurant. The staff is humble, helpful and efficient. Services of laundry, dry cleaning, and ironing are available.
What is a Motel?
A motel is a type of hotel. The word 'motel' is a combination of two words ', motor' and 'hotel'. You can find a motel generally on highways, outskirts and national road networks. It is meant for family or business travellers who go on a trip by car. A motel has a small reception, and it provides comfortable bedrooms to travellers for a charge.
Simply put, it is meant to fulfil the needs of people who want to stay one or two nights while on a trip, alone or with their loved ones. It provides reasonable lodging facilities to highway travellers.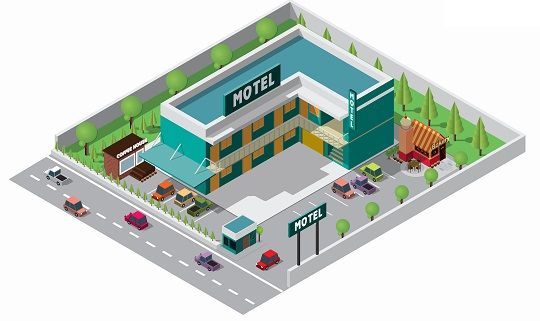 Motels have ample space for parking vehicles. It usually has one or two floors, and the rooms can be accessed from the parking. To be precise, the motel rooms are generally facing the parking zone to make the entry and exit of people easy.
Motels offer facilities like car parking, a garage for car servicing, accommodation, food and beverage, a service station, and vehicle refuelling. Some motels have restaurants, dining rooms and even a swimming pool.

Features of a Motel
Designed for short stays
Offers quick, basic breakfast
One of the most economical places to stay.
One or two floors with outdoor room entrances.
How did Motels come into existence?
In the twentieth century, there was extensive development of road networks that resulted in an increase in the number of travellers. It became a very common thing in Europe and America.
So, the travellers who used to travel long distances by their own car look for a hygienic and safe accommodation for resting and sleeping at night. Along with that, they also needed garages and refuelling facilities for their vehicles. Hence, in the year 1950, motels were established.
Key Differences Between Hotel and Motel
A hotel is a large establishment that comprises many bedrooms and provides beds and food on a short-term basis. They also offer several additional guest services, for example, a swimming pool, entertainment, childcare, spa, etc., to the guests. Some hotels provide conference rooms, meeting rooms and banquet halls encouraging people to hold meetings. On the other hand, a motel is meant to provide a place for guests to stay overnight, especially for road travellers. Its main purpose is to provide short-term layovers to long-distance travellers.
The cost per night stay in a hotel is more. It completely depends on the location where the hotel is situated. They are meant for longer stays. However, the cost per night stay in a motel is comparatively very less. They are designed for shorter stays, i.e. one to a few days. Here one must take note that a number of factors affect the prices of the room, including hotel location, facilities provided, size of the room, and demand for rooms.
Hotels offer a wider range of services which covers room service, restaurant, laundry, pool, fitness centre, salon and spa. On the contrary, a motel offers a swimming pool and breakfast apart from accommodation.
You may find receptionists, valets, bellboys, chefs, housekeepers, doormen, and elevator operators in hotels. On the other hand, in motels, you can find receptionists and housekeepers.
A hotel is a large building with hundreds of rooms. The entrance to the room is generally from inside the hotel. As against, Motels have a drive up external entrances to the rooms, which makes easy entry and exit for the guests.
Hotels are meant to facilitate longer stays and are generally found in the city's centre or near airports. Conversely, motels are motor hotels on major highways, and they are designed for layovers.
Conclusion
Above all, when choosing a hotel or a motel, it all comes down to what suits you best for your need. If you want a comfortable stay with all the amenities, in such a case, a hotel is the best alternative for you. Business people often prefer a hotel, where they can stay for a few days and have all the basic facilities. But a motel is best when you are on a road trip and do not want to inflate your budget.