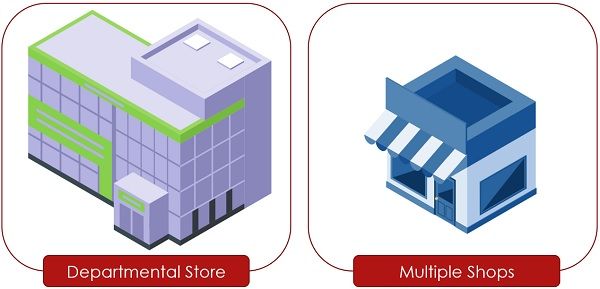 A departmental store is a huge retail showroom consisting of various departments functioning in the same place. In this, each department limits its functions to a specific kind of trade. Therefore, the departments are a complete unit in themselves, i.e. each department is a separate shop.
Talking about multiple shops, which consist of several branch shops, which a business enterprise owns. These shops are set up at different locations in the city and throughout the country. They specialize in one or a few lines of products.
In this post, we will be exploring the difference between departmental store and multiple shops.
Content: Departmental Store Vs Multiple Shops
Comparison Chart
| Basis for Comparison | Departmental Stores | Multiple shops |
| --- | --- | --- |
| Meaning | Departmental Stores are stores wherein a number of departments work together on the same premises. | Multiple shops are established by opening several branches at different locations. |
| Product Variety | A wide range of products is offered to customers for sale. | Offers a single or related line of products. |
| Location | You can find departmental stores in the central part of the city in large buildings, so as to attract a large audience. | You can find multiple shops in every important locality of the city. |
| Set up by | Retailer Organization | Manufacturers |
| Capital required | Huge capital investment is required | Comparatively, less capital is needed to establish the stores |
| Advertisement | Advertising is done locally, as they are located in one place. | Advertising is done nationally, as they cover a large area, as multiple shops are located in a wide area. |
| Objective | To provide a wide range of goods for meeting the needs of the consumers under a single roof. | To provide similar products at the same price to all the customers, irrespective of location. |
| Fixed pricing | No | Yes |
| Cater | They cater for the demand of comparatively high-income groups | They cater for the demand of different classes of customers |
| Sales | Both on a cash and credit basis | Only cash sales are made |
| Focuses on | Convenience of customers | Economy |
What is Departmental Store?
A departmental Store refers to a large-scale retail outlet wherein a broad range of products are available for sale via separate departments under the same roof. In this, each department acts as an individual shop, dealing in a separate line of goods and specialising in that. For instance, there are separate departments for clothes, footwear, books, cosmetics, groceries, and so forth
It follows a centralized structure of the organization. Hence, the centre (top management) has full control over all the departments. But, one must note that each department acts as a complete sales unit in itself.
Do you know?
France is regarded as the Home of departmental stores. Here, the first departmental store is set up in the year 1852 in Paris by the name 'Bon Marche'.
Example
D-Mart
Croma
Lifestyle Stores
Reliance Retail
Pantaloons
Trent
Shopper's Stop
Features of Departmental Store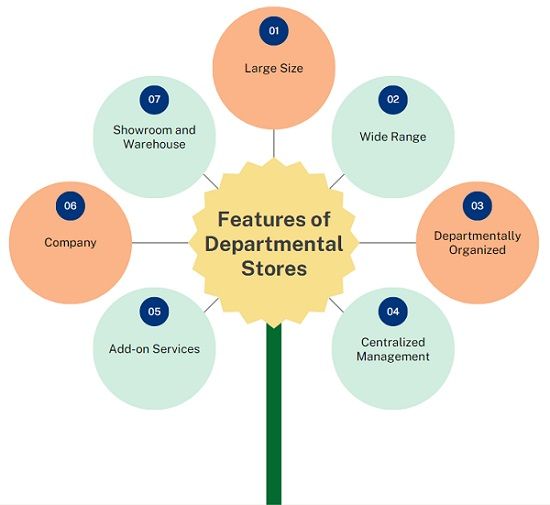 Large size: Departmental Store is a metropolitan organization. You can find it in the centre of the city so as to attract a maximum number of people at the same time.
Wide range: In these stores, you can find all kinds of products and services in a single premise.
Departmentally organized: Here, you can find various departments, and each department sells and specializes in one or more related lines of product or service.
Centralized management: A departmental store is a combined retail organization. Here, all the departments are under centralised management and control. There is centralised purchasing. This means the purchasing department of the store makes all the purchases for the store.
Add-on services: It provides allied services like recreation, restrooms, toilets, restaurant, public telephones, post offices, home delivery service etc. In short, it is analogous to a shopping centre.
Company: Because of their large size, they are constituted as a joint stock company that the company's board manages.
Showroom and Warehouse: A departmental store acts as both a retail outlet as well as a warehouse.
Also Read: Difference Between Supermarket and Hypermarket
What is Multiple Shops?
Multiple Shops imply numerous identical retail outlets located in different areas of the city or throughout the country. Basically, they are a network of retail shops whose ownership and management lie in the hands of a single organization, usually the manufacturer. In the USA, multiple shops are known as chain stores.
Numerous shops of a particular brand with the same appearance and infrastructure run in different locations, which we call Multiple Shops. Generally, you can find them in densely populated locations where the reach is maximum. Further, they deal in standardised and branded products, which have high sales turnover.
The head office sends instructions to all the branches. Also, the arrangements regarding window dressing and shop decorations are the same at all the shops. The head office fixes the price, and all the branches offer goods at the same price.
Do you know?
The concept of multiple shops is coined in the USA. Here, the first chain that was established in the year 1859 in New York was ' The Great Atlantic and Pacific Tea Company'.
Example
BATA
Reebok
Raymonds
Titan
PUMA
Relaxo
Usha Sales
Features of Multiple Shops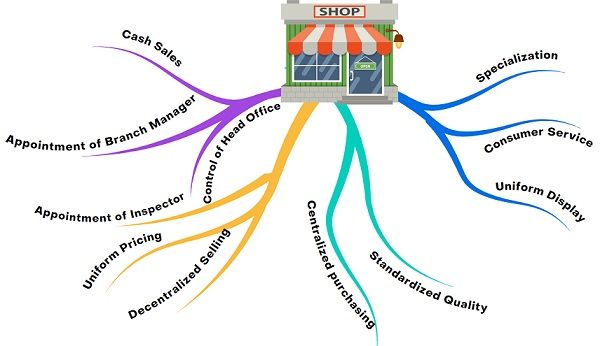 Specialisation: Such shops specialize in just one or a few lines of products. Further, a variety of that line is available at all the shops
Consumer Convenience: Multiple shops make efforts to provide convenience to customers. They do so by setting up branches which are close to the customer's residence.
Uniform display: Window dressing and Decoration of the shops are the same in all the branches.
Standardized Quality: They sell items of necessity or semi-necessity which are standardized and branded. Further, these items do not require much selling effort.
Centralized Purchasing: The head office makes purchases of all the multiple shops to maintain uniformity in products sold at showrooms opened at different locations. So, there is centralized manufacturing or procurement of the stock for different outlets. After that, the dispatching of goods to different stores as per their requirements takes place.
Decentralised Selling: Each branch of the multiple shops has its independent sales. This is because they operate in different areas of the city.
Uniform pricing: All the branches offer the products at a similar price. That is to say, they follow a fixed price policy, which is the same for all the branches.
Appointment of Inspectors: The head office appoints inspectors for the purpose of surveillance and inspection. They keep a check on the quality of customer service, compliance with the policies etc.
Control of Head Office: Each branch works under the control of the head office. The head office formulates policies and implements the same.
Appointment of Branch Manager: The head office appoints a Branch Manager who supervises each retail shop and is responsible for its day-to-day management.
Cash Sales: It allows only cash sales to the customers.
Also Read: Difference Between Wholesale and Retail
Key Differences Departmental Store and Multiple Shops
Departmental stores refer to large retail organizations wherein there are various departments present that sell a number of products and services to customers. On the contrary, multiple shops or chain stores are several identical outlets of a particular brand operating in different areas of the same city to provide products and services to customers.
A departmental store operates on large premises, usually at the centre of the city or town. However, multiple shops operate in different areas of a particular city and country so as to reach the maximum number of customers.
While a departmental store is a combination of whole selling and retailing. A retail merchant starts and runs it. Conversely, the ownership and management of multiple shops lie in the hands of the manufacturer, which runs its own retail outlets to distribute the output.
To open a departmental store in a particular city, there is a need for huge capital investment. But, the capital investment for setting up multiple shops in different locations in the same city is comparatively less.
While a departmental store advertises its products and services in just one city or town. Advertisement of multiple shops takes place on a national scale.
Departmental stores aim at providing a wide range of products and services to the customers to fulfil the needs of the consumers under a single roof. In contrast, Multiple shops aim at providing the same category of products at a uniform price to numerous consumers living in different locations.
Prices are not uniform in various departmental stores, i.e. the price of the same product may differ from one departmental store to another. In contrast, the prices are uniform in the case of multiple shops. This is because the ownership lies in the hands of a single firm which offers products and services at the same price.
A departmental store caters to various needs of the customers, mainly the ones who are not price-sensitive and who prefer variety and service. In other words, we could also say that a departmental store caters for the needs of those who are more concerned about service quality than price. On the contrary, multiple shops cater for the limited needs of the customers, especially the ones who are price sensitive. It offers goods to all the customers who would like to buy good quality products at fair prices.
Departmental stores may provide credit facilities to regular customers. So, the departmental store allows both cash and credit sales. But, multiple shops make cash sales only.
Conclusion
Above all, in both cases is that both types of enterprises the control lie in the hands of the centre, i.e. top management. This means there is a department that performs the tasks of purchasing and accounting. Also, they are operated on a large scale and need a huge capital investment. Departmental stores generally offer allied services to the customers like restaurants, reading rooms, toilets etc. Whereas allied services are not provided to the customers by multiple shops.