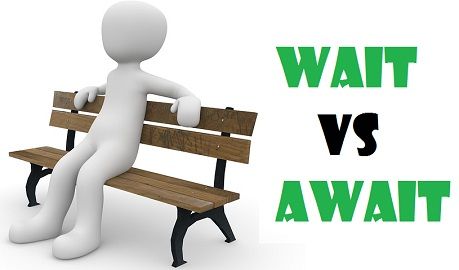 The words 'wait' and 'await' are quite identical in their meaning and seem synonymous, but one should not use them interchangeably. This is so because 'await' is more formal, as compared to 'wait'. 'Wait' means to pass the time until an anticipated event occurs, whereas 'await' means to wait for something with a hope.
Now let's understand the differences between wait and await with the help of examples:
The Principal was waiting for the Chief guest to arrive, but the Chief guest was awaiting the call.
The Director said, "Clients have to wait, as the new project is awaiting approval of the Central Government."
In these two examples, you might have observed, that the word wait is used in the context of repose, pause or delay, whereas await is used when someone/something is waiting with anticipation.
Content: Wait Vs Await
Comparison Chart
Basis for Comparison
Wait
Await
Meaning
Wait means to stay at a particular point/place, till a specific time goes by or event occurs.
Await means to wait for something to happen with an expectation.
Pronunciation
weɪt
əˈweɪt
Part of speech
Verb and Noun
Verb
Verb
Intransitive
Transitive
Followed by preposition
Yes
No
Example
We waited patiently for the doctor to arrive.
We are awaiting their response on the matter.
Arnav waited for 3 hours for the train.
That was the most awaited trip.
The audience can't wait for your next video.
Jimmy is awaiting the joining letter.
Definition of Wait
The verb 'wait' implies to let the time to pass while staying at a particular point without doing anything, until something that you expect happens, or you are able to do something or your turn arrives, as you can proceed further only when that particular moment takes place. Now, let's look at the following examples to understand its usage in a better way:
To let the time to go by till something that is anticipated happens:

You'll to wait until the results are announced.
Wait here till she comes back.
Finally, the wait is over.

To stay in the state of repose in expectation:

I was waiting for my friend on the road when Harry passed by.
My parents were eagerly waiting to see me after five years.
After a long wait for the officer, I finally get the approval.

When an action is temporarily postponed or delayed:

The meeting will have to wait.
The guests can wait.

To show readiness:

Your parcel is waiting at the post office.
Further, to stop or interrupt someone, while they are doing or speaking something, we can also use wait in expressions like wait a moment, or wait for a while. This is just to say the person to take a pause, for some time.
Definition of Await
In a formal context, when someone is waiting for to something to happen, we use the word 'await' in the sentence. Let's take a look at the points given below to understand it better:
To look for or count on something:

My parents are eagerly awaiting my UPSC results.
Finally, the most awaited movie of the year is going to be released.
The couple was awaiting their first child's birth.

In legal terminology, when something is waiting to proceed further, i.e. the next process, or level or it is kept ready:

The bill was awaiting the President's approval.
The deal is awaiting signature.

Forthcoming:

A beautiful surprise awaits David.
Key Differences Between Wait and Await
The difference between wait and await, are discussed in the points given below:
'Wait' means to spend time, while doing very little or nothing, as you cannot proceed further if the moment arrives, or something that you expect to happen occurs finally. Conversely, the word 'await' means 'be waiting for an action or event to take place, with a hope or watchfulness.'
While 'wait' can be used as a noun or as a verb in a sentence, await can be used as a verb only.
'Wait' is an intransitive verb, as it can exist even without a direct object. On the other hand, the word 'await' is a transitive verb which requires a direct object, which is commonly an abstract noun.
Usually, a preposition follows the word 'wait' whenever there is an object. As against, no preposition follows 'await', because, the word itself means 'wait for' and if we use any preposition after it, that will not make any sense.
Examples
Wait
Simon has been waiting there for two hours.
She said, "she will wait for me in the hotel."
Do you think I must wait?
Await
The victim is awaiting judgement.
Robin is still awaiting the results.
A new beginning of your life awaits you.
How to remember the difference
The only difference between wait and await lies in their meaning, wherein 'Wait' means to stay inactive or in resting mode, and not do anything further, till something which you are hoping to take place, happens finally. On the other hand, when you are waiting for something to happen with expectation, we use the word 'await'.