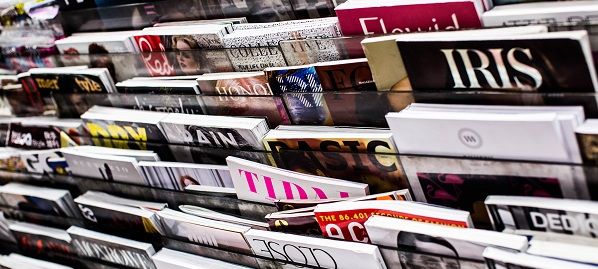 Reading a journal or magazine, often help us in becoming more up to date, with news, events, developments, etc. Basically, journals are used to report original research and experiments, as well as to convey information about the recent developments in the concerned area of study. Contrary to this, magazines tend to inform as well as entertain the reader, while providing a broad overview of the topic of interest.
Articles presented in the journal is a systematic and detailed account on a particular topic, that covers experiments or other research mechanisms like surveys, observations, interviews, etc. On the other hand, articles of a magazine are interesting as well as informational, on general interest topics.
So, here in this write-up, you will come to know the differences between journal and magazine.
Content: Journal Vs Magazine
Comparison Chart
| Basis for Comparison | Journal | Magazine |
| --- | --- | --- |
| Meaning | Journals are periodicals, which contains current news and events in the form of article, related to a particular field of study. | The magazine is a collection of theme-based contents, in a single thin book. |
| Articles | Lengthy and descriptive | Brief |
| Graphics | Graphs, tables, statistics and charts. | Pictures and illustrations |
| Article writer | Expert, Researcher or Professional | Writers or freelancers |
| Signature of writer | Articles are always signed by the writer | Articles are not signed by the author |
| Sources cited | Yes, with reference | No |
| Language used | Technical language | Non-technical language |
| Content | Contents are based on news and research in the concerned field. | Contents are based on current events and topics of general interest. |
| Target audience | Scholarly audience | General Public |
| Contains Ads | No to few ads | Lots of ads |
| Review | Peer-reviewed | Reviewed by one or more editors |
| Publishing frequency | Fortnightly, monthly or quarterly | Weekly, fortnightly or monthly |
| Who publishes it? | A professional body, academic institution or association of people. | Commercial undertaking |
Definition of Journal
Journal refers to a publication on a specific discipline or area of study, that comprises of scholarly articles, book reviews and editorial matter. It consists of a collection of articles, which are well researched, scholarly written and refereed. The articles usually begin with an abstract and contain references. Further, the articles are always fact and evidence-based.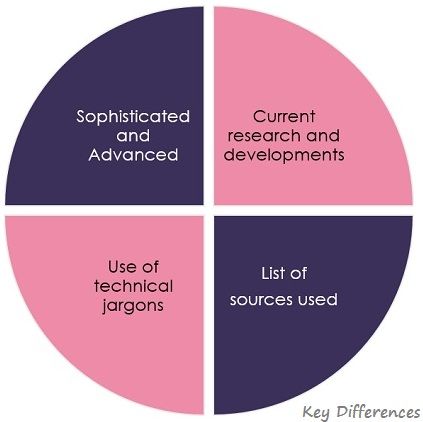 The issue of a journal is made periodically, throughout the year. It is:
Peer-reviewed
Up to date
Digestible
Topic-specific
The cover page of the journal is simple and is often text-based. It shows the volume number and issue, as well as the name of the organization or institute, to which it belongs. It lacks advertising and colourful images.
Journal articles report on the latest research and development, and experimental results on the relevant topic. Further, the articles of a journal are penned by a person having specialised knowledge or academic qualifications in the concerned field of study or by faculty of the university, which is responsible for its publication. As the author's credentials are given, you can check out the advanced degrees provided with the author's name.
What is meant by peer-reviewed?
Once the article is submitted to a scholarly journal, they are evaluated by a panel of peers and experts in the concerned domain, prior to publication. This process is termed as peer-reviewed. It is to ensure that the article is based on genuine research as well as it fulfils the specific criteria or standards of the respective discipline.
Definition of Magazine
A magazine is a form of a periodical press publication, often geared to general as well as the special audience, whose articles are written by staff writers or freelancers. The articles are well researched and authentic, as the information is collected from different sources and transformed into stories and reports.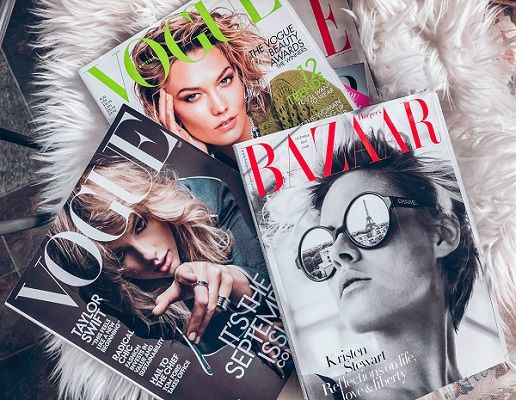 It is published at regular intervals like, once in a week, fortnight or month. One needs to subscribe to a magazine to get the issue.
There is no definite format followed by the magazine to write articles. Captivating and sensuous photographs are used in a magazine to attract readers. The appearance of a magazine is smooth and glossy.
Contents of a Magazine
The popularity and readership of any magazine rely on the trust of its audience, which the magazine can develop by delivering quality content. Its contents encompasses: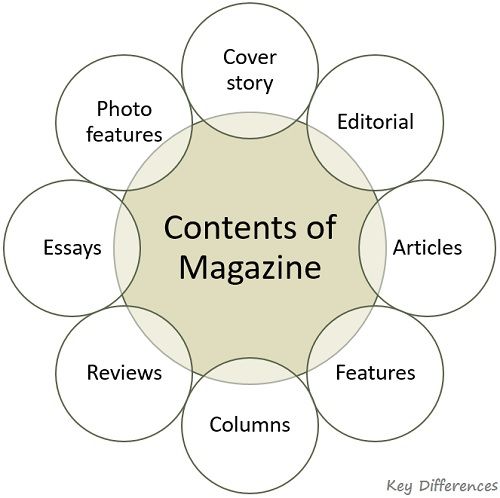 Cover story: It is the story, whose subject is presented on the front page of any magazine.
Editorial: Depending on the frequency of publication, the editor encapsulates any interesting or trending event for the editorial post. It is an opinion based section, in which the editor shares its views and opinions on different issues, be it social or political or legal. And thus tends to persuade the readers with that particular outlook.
Articles: Apart from the cover story and editorial, you will also find articles on different subjects for a specific audience. These are usually a non-fictional piece of information.
Features: Feature stories cover articles based on history, news, personality or human interest such as places, people, events, etc. It aims to describe the experience and emotion in such a way that the readers can easily connect.
Columns: These are opinion based piece of writing, expressing the informed and powerful opinion of the writer, on a burning issue.
Reviews: Reviews generally state critical analysis or factual data on something, along with the opinion of the reviewer. However, the assertions must be supported by arguments, explanation and illustrations.
Essays: It is an analytical or interpretative written composition on a particular topic.
Photo features: In a photo feature, there is a range of photographs that narrate a story.
Types of Magazines
Basically, there are two types of magazines: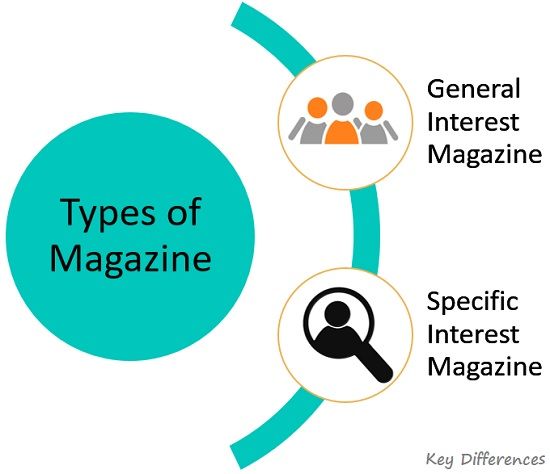 General Interest Magazine: Magazines that cater to the public at large, to convey news and information in general, on a variety of topics and subjects. Therefore, the article is based on burning issues or trending topics.
Special Interest Magazine: Those magazines which target a specific group of audience, which have similar interests and likings are called special interest magazine. It may include:

Sports magazines
Farm magazines
Literary magazines
Environment magazines
Business magazines
Entertainment magazines
Automobile magazines
Women's magazines
Men's magazines
Children's magazines
Key Differences Between Journal and Magazine
The points given below are substantial so far as the difference between journal and magazine is concerned:
Journal implies a printed material, containing articles, announcements, news and events, related to the particular field of study. On the contrary, a magazine is a press publication which is published at periodical intervals and it contains miscellaneous pieces of writing, from articles, to columns, from features, to cover stories.
Journal articles are lengthy and descriptive in the sense that it provides an in-depth analysis of the specific topics and the research findings. Contrastingly, the articles of a magazine are short, as they give a general and broad overview of the particular topic.
Journal includes graphs, charts, statistics and tables, in support of the articles, to furnish accurate and reliable information. As against, the magazine includes photographs and it is highly illustrated, making it more beautiful and attractive.
The articles of a journal are written by experts, researchers or professionals of the concerned discipline. On the other hand, the magazine articles are penned by magazine writers which include staff writers, journalist or sometimes freelancers.
Journal articles are always signed by the author, but the articles of a magazine are not at all signed by the writer.
In a journal, the articles include the list of sources used, with reference. However, sources cited are not found in a magazine.
The articles of a journal are written using technical terms, keywords and jargons of the respective discipline. In contrast, the magazine articles use basic terminology, to make it more understandable to mass readers.
Journal articles are aimed to be read by the students, scholars and professionals of the field. That is why they are more enlightened and detailed in comparison to the articles published in the magazine. Hence, the articles of a magazine are geared to the general public.
The content of a journal may cover news and research in the concerned discipline. On the flip side, the content of the magazine may be related to current events and topics of general interest. However, the content is also based on the type of magazine, for instance, a business magazine mainly covers business news and events, latest product launch, new entrants in the market, startups etc.
When it comes to ads, a magazine contains lots of ads of different products, brands and companies. As against, one can find no to few ads in a journal.
Talking about the review of the articles, journal articles are always peer-reviewed or refereed, i.e. they are always reviewed by a panel of peers or editorial board before final publication, to check its authenticity. On the contrary, the articles of a magazine are reviewed by magazine editors, before it is finally published.
Journals are published periodically, i.e. bi-monthly, monthly or quarterly. Further, they are sequentially numbered. Conversely, magazines are published weekly, bi-monthly or monthly.
Magazines are commonly published by a commercial enterprise, for the sake of profit. In contrast, journals are published by a professional body, academic institution or association of people.
Example of Magazines
Newsweek
Vogue
Forbes
Time
People
National Geographic
Reader's Digest
Awake
Examples of Journals
Econometrica
The BMJ
The New England Journal of Medicine
Journal of Clinical Investigation
International Journal of Computer Vision
Journal of Informetrics
JAMA: Journal of the American Medical Association
Harvard Business Review
Conclusion
So, magazines are devised to attract a large population, with precise articles written in a simple and readable language. On the other hand, journals are for students, researchers, professionals and scholars, belonging to a specific discipline. It contains articles, news, events and discussions.