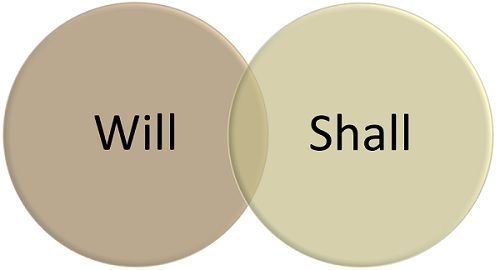 We all know that the words 'will' and 'shall' are used in the future tense, to indicate something which has not taken place yet, but it is going to take place in the coming time. Many people don't understand where we can use these helping verbs correctly in the sentences. While 'will' is mainly used when you give an order, suggest something, announce a decision or to express willingness/ability to do something.
On the other hand 'shall' is used in place of will, when we initiate an action and also to ask something, to know the wish of another individual. Let's take a look at these examples to understand the two:
Shall I cut the ribbon? Or Will you cut the ribbon?
Will you complete the project for me? Or Shall I complete the project for you?
You might have seen a huge distinction in the way these two are used in the above-given sentences. Shall I cut the ribbon indicates permission, i.e. do you want me to cut the ribbon? On the other hand, Will you cut the ribbon indicates an order, i.e. I want you to cut the ribbon.
Similarly, in the next sentence, will you complete the project for me indicates a request, i.e. I want you to complete my project. Conversely, Shall I complete the project for you? Indicates offer, i.e. Can I complete the project on your behalf.
Content: Will Vs Shall
Comparison Chart
Basis for Comparison
Will
Shall
Meaning
'Will' is used in sentences to show desire, willingness, or to predict something or to talk about future events.
The word shall can be used in place of will in specific circumstances. It is mainly used to make questions.
Usage
Request and orders
Offers and suggestion
Modern English
Common
Uncommon
Normal future
With 2nd and 3rd person
With 1st person
Strong future
With 1st person
With 2nd and 3rd person
Examples
Will you please be quiet?
We shall be there tomorrow.
We guarantee you will love the place.
Shall we have dinner tonight?
The result will be declared in forty five days.
I shall wait for you.
Definition of Will
Will is a helping verb, which is used with the main verb to indicate future tense. It is mainly used to show intention, desire, capacity or the habit of a person. It shows what is going to happen in the future time or forecasting something.
Further, we can also give orders or declare/decide something. Now we'll talk about its usage in detail:
To discuss, what is about to happen, particularly those events for which you are quite sure or when it is planned:

The train will arrive at 4 AM
She will report to you in the next 15 minutes.
We will go to Agra tomorrow.

To express something which you intend, wish or capable of doing:

I will give you money to start your business.
I will give you the details by Saturday morning.

To request something:

Will you do me a favour?
Will you allow me to talk to him?

To give orders or commands:

Will you stop irritating me?
Will you behave nicely?

When used with the third person, it indicates habit:

She will rock the dance floor.
Definition of Shall
The word 'shall' can be used in place of the word 'will', if we are talking about a future plan, event and expectation, with the first person, i.e. I and we. Further, when we talk about strong intention, such as promise, instruction or obligation then also we can use shall instead of using will, with second, i.e. you and third person, i.e. he, she, it and they. Now we'll discuss its usage, with the help of examples:
To talk about the future:

I shall never forgive you.
If she doesn't stop insulting me, I shall be slapping her.
We shall be celebrating our 15th anniversary next year.

To ask or give a suggestion:

Shall we go and visit Dipika tonight?
Shall we start dinner?
Whom shall I discuss this matter?

To indicate that something is sure to happen or must take place:

Don't worry we shall bring the doll for you.
I shall be late at the office today.

To offer something:

Shall I get you some coffee?
Shall I close the window?
Key Differences Between Will and Shall
The difference between will and shall can be drawn clearly on the following grounds:
The word will is used to represent future actions, to make predictions, to expect something or to show an intention. As against, shall is used instead of a will to indicate a desired or planned future action formally. It can also be used to ask a question to know the wish of another person.
The use of shall is rare in Modern English, whereas will is quite common.
In case of normal future tense sentences, i.e. when we are talking about planning, expectation or predictions, we use shall with the first person (I/We) and will with second (You) and third person (He/She/It/They)
When the sentence expresses strong future intention or assertion, such as a promise, determination or command, we use will with the first person and shall with the second and third person.
Examples
Will
Will you pass me the bowl?
Will Robin be here in a few minutes?
The manager will appraise your hard work.
Shall
I shall be 21 years old this month.
Shall we play badminton in the evening?
We shall meet the client after lunch.
How to remember the difference
To understand the difference between will and shall you must know where to use them. Basically, will is commonly used, but we can use shall, in place of will in certain circumstances. While will is used to express order, decision, request, consent and willingness, Shall is used when we are offering and suggesting something.