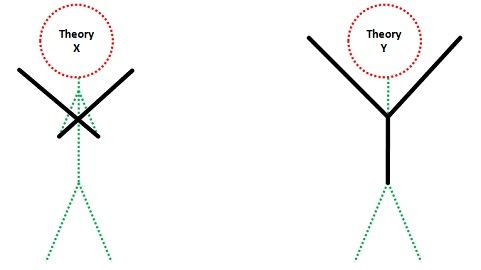 Motivation implies the act of stimulating or inspiring subordinates to pursue the desired course of action. It is something that makes people act or behave in a particular manner. Based on the premises concerning human behaviour, Prof. Douglas McGregor put forward a theory of motivation, called as theory X and theory Y. Theory X is a conventional approach to motivation, based on negative assumptions.
On the other extreme, Theory Y is diametrically opposite to theory X which shows the modern and dynamic approach to individuals and relies on the assumptions that are practical in nature. In this article, we are going to talk about the major differences between Theory X and Theory Y.
Content: Theory X Vs Theory Y
Comparison Chart
| Basis for Comparison | Theory X | Theory Y |
| --- | --- | --- |
| Meaning | Theory X is a motivational theory, which involves high supervision and control over the subordinates, and greater degree of centralization. | Theory Y, is an advanced theory, wherein it is assumed that the workers are self-directed and self-motivated, for growth and development and takes active part in decision making. |
| Work | Dislikes work | Work is natural |
| Ambition | Little to no ambition | Highly ambitious |
| Responsibility | Avoids responsibility. | Accept and seek responsibility. |
| Leadership style | Autocratic | Democratic |
| Direction | Constant direction is required. | Little to no direction is required. |
| Control | Tight | Lenient |
| Authority | Centralized | Decentralized |
| Self motivation | Absent | Present |
| Focuses on | Psychological needs and Security needs | Social needs, esteem needs and self-actualization needs. |
Definition of Theory X
Theory X is a traditional model of motivation and management. It takes into consideration, the pessimistic behaviour of an average human being, who is less ambitious and inherently lazy. Authoritarian management style is applied by the management, where the managers closely monitor and supervise each employee.
The premises on which theory X relies are listed below:
By nature, an individual is indolent and will avoid work, to the extent possible.
The average individual is unambitious, doesn't like responsibilities and prefers supervision.
He/She is self-oriented and unconcerned about organisational objectives.
The employee resists change and gives the highest priority to job security.
He/She is not very clever and can easily be deceived.
On the basis of above assumptions, it is concluded that the management is held responsible for organising resources, for the firm, with the aim of economic gain. Next, the management directs the efforts of the employees and motivate and control their actions, to make them work as per the needs of the organisation. Further, they must be monitored, persuaded, rewarded and punished, or else they will remain idle.
Definition of Theory Y
Theory Y is a modern approach on motivation, put forward by McGregor. It uses the participative style of management and assumes that workforce is self-directed and enjoy the work assigned to them, in the accomplishment of organisational objectives. According to the theory, employees are the most precious asset to the company. Given below are the major assumptions of this model:
The employees usually like work and are natural like play and rest. The performance of work is discretionary and provides a sense of fulfilment, if meaningful.
He/She can deploy self-control and self-motivation, in the pursuance of organisational objectives.
The rewards in relation to the achievement lead to commitment towards objectives.
An average worker, do not escape responsibility, rather he/she seeks it.
The capabilities and calibre of the employees are underutilised, who possess unlimited potential.
Based on these assumptions, it can be deduced that management is held responsible for arranging the resources with the aim of achieving economic and social ends. Further, the employees are not indolent by nature, but they behave so, because of experience. Moreover, it is the management's duty to create such an environment for the employees to help them achieve their goals.

Key Differences Between Theory X and Theory Y
The points given below are substantial, so far as the difference between Theory X and Theory Y is concerned:
Theory X is propounded by McGregor, which indicates a set of assumptions, that an average worker is motivated to satisfy their own needs and not to contribute to the fulfilment of organisational goals. Conversely, Theory Y is based on the assumption that an average human being is motivated towards growth and development and they contribute to the achievement of organisational goals.
Theory X assumes that an employee dislikes work, while theory Y presupposes that work is natural for employees.
Theory X says that employees are unambitious, whereas the employees are highly ambitious says Theory Y.
As per theory X, it has been inferred that people do not like taking responsibilities and avoids it to the extent possible. On the other hand, theory Y infers that people accept and seek responsibility.
The leadership style adopted by the management, in the case of theory X is autocratic. As against, democratic leadership style is adopted in the case of theory Y.
In theory X, it is assumed that employees require constant supervision and direction. In contrast, in theory, Y, the assumption is that employees do not need much supervision for the completion of the task and also in the accomplishment of organisational objectives.
Theory X is characterised by tight external control on the employees, whereas theory Y features leniency in control.
According to theory X, there is complete centralization of authority, in the organisation, i.e. the power lies in the hands of the top executives. Unlike, decentralisation of authority is presumed in theory Y, which involves employees participation in management and decision-making.
The element of self-motivation is absent, as per theory X, but present in theory Y.
On the basis of theory X, employees stresses on Psychological needs and Security needs. In contrast, based on theory Y, employees concentrates on Social needs, esteem needs and self-actualization needs.
Conclusion
The fundamental distinction between these two is treating employees like children and treating employees like adults. These are two separate set of assumptions of the managers which depict the two models of the motivation of manpower, which are adopted by the managers.