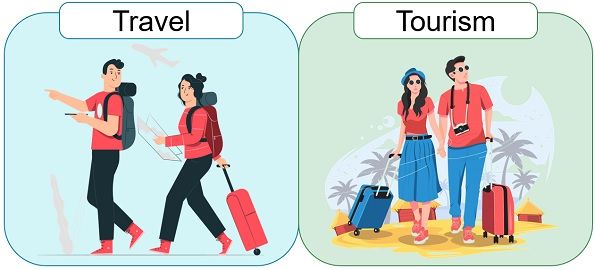 About 100 years ago, travel was confined to the elite class. When there was the development of mass transportation means like rails, roads, aeroplanes and cruise ships, travel became possible for the general public.
While travel is a transition, tourism is possible when one reaches the ultimate destination. We all love going on trips with our families, friends and close ones. In this context, we use the words travel and tourism quite commonly. Tourism is an industry where businesses provide accommodation, transport and other facilities.
In the fundamental sense, a tourist is a person who sees places, but a traveller is someone who goes to places.
The main objective of travelling is movement, whereas the objective of tourism is for leisure.
Content: Travel Vs Tourism
Comparison Chart
| Basis for Comparison | Travel | Tourism |
| --- | --- | --- |
| Meaning | Travel means moving or going on a journey from one place to another. | Tourism is when we travel to spend time away from home, for the purpose of recreation. |
| Term | Generic term | Specific term |
| Former Planning | Without any plan, it is sudden. | There is a plan for every day, and hour. |
| How long is their stay? | Travellers generally stay at a particular place for a long time. However, it all comes down to the purpose for which they visit that place. | Tourists visits places for relaxation and pleasure only. They don't stay at one place for a long time. |
| Reasons | Meeting family and friends, education, job, business and so forth. | Pleasure, refreshment and exploring new places. |
| Planned ininerary and specific activity | Not present | Present |
| Language | Traveller tries to learn the regional language. | Tourist uses English as a medium of communication. |
| Visit to places | A traveller looks for visiting all the places and travel on their own. | A tourist do not visit all the places as they visit only those places which are included in their tour package. |
What is Travel?
When you travel, you go for a long trip or journey either solo or with a group of family or friends. One can use different modes of transportation like aeroplanes, trains, cars, buses and ships. It covers both domestic as well as international journeys. Travel increases your knowledge about the world, you experience the culture and traditions of that place, and also you learn what place is about.
People travel for different reasons, such as travelling for business, visiting family or friends, attending meetings or weddings, etc. They love travelling nowadays to get out of their comfort zone, explore more, gain new experiences, connect with people, make new friends, etc.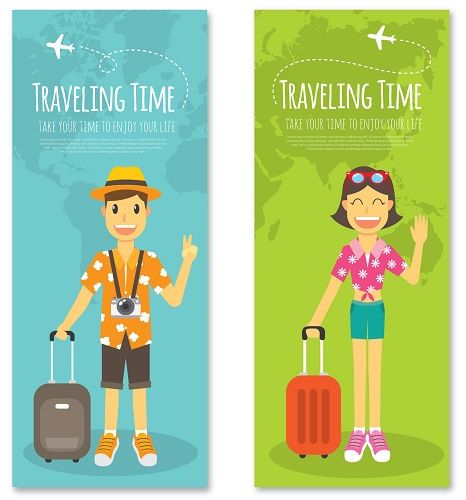 Travelling can be for long distance, short distance, domestic, abroad, etc. It may include travelling by different ways like air, road, rail and water.

Who is a Traveller?
A traveller is someone who likes to travel light without any tour package that has a fixed schedule. Travellers believe in packing less and exploring more concepts. On travelling, people try to explore the place themselves. For that, they learn more and more about their culture and history. They also eat local cuisine, find out new places and visit their famous destinations. In other words, travellers blend with the locals. Travellers visit multiple destinations during their journey.

Who is a Travel Agent?
Travel Agent has complete information and knowledge of tourism products and services.
Also Read: Difference Between Economy Class and Business Class
What is Tourism?
In simplest terms, tourism means a travel business which covers all facilities of the service industries that cater to tourists. Tourism companies are responsible for ticket booking, visa clearance, organizing tours, accommodation facilities, transport facilities, etc.
Tourism is an industry that deals with preparing packages for tourists. Now you must be thinking – what is included in tourism? So, friends, tourism covers visiting tourist attractions, having cultural experiences, exploring natural wonders and going to new destinations. Shopping, sightseeing, entertainment, dining out at restaurants, attending cultural events, participating in adventure sports, and experiencing local culture, traditions and cuisines all form part of tourism.
Tourism is for pleasure purposes. It involves a to-and-fro trip. Tourism is a general concept in the sense that a large number of people visit places (near or distant).
It covers the journey to the destination and stays at the hotel along with recreational activities.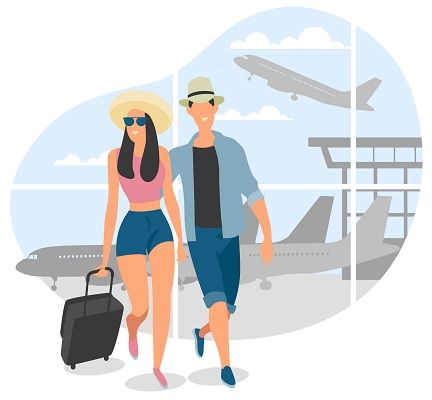 Impact of Tourism in the Economy
Tourism is one of the important sectors for many economies that generate income from domestic and foreign tourists. Tourists shop a lot, so it is a source of income for the locals. It also contributes to creating jobs in hospitality industries like hotels, entertainment, transportation and restaurants. Not just this, it also increases employment opportunities for locals.
It also boosts economic growth in the country by bringing foreign money to the country, as foreign tourists spend on goods and services. However, the money is mainly utilized for the upgradation of infrastructure. Also, it takes care of the needs and wishes of the tourists.

Who are Tourists?
Any person who is away from their usual place of residence for a certain period but will return home. They participate in leisure activities. Their visit is temporary, i.e. for a short period only.

Types of Tourism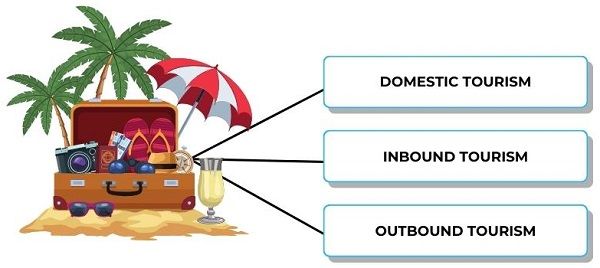 Domestic Tourism: When people go for holidays, short trips and day trips within their domestic country. For example, a Supporter of a cricket team going to watch cricket held in another city or a family outing.
Inbound Tourism: It is a form of international tourism wherein people go abroad from their home country. For Example, A group from the USA is visiting the UK for a trip.
Outbound Tourism: When people travel to visit international countries for leisure or business from their domestic country. For Example, A family from India is going to UAE on holiday.
Also Read: Difference Between Passport and Visa
Key Differences Between Travel and Tourism
While 'travel' means moving from one place to another, there will be a change in the location, weather and overall environment.
The term 'travel' is a very generic one which is used in our day-to-day lives. As against, 'tourism' is used by tour companies, and holiday operators often use the word 'tourism'.
A traveller spends time with the local population and ethnic groups. He tries to understand their culture, eats local food, learns the local language, etc. In contrast, a tourist generally spends time with tourist groups. He comes to see their culture, eats different cuisines and prefers speaking English.
Travelling takes place solo or in small groups. At the same time, the tour takes place in large groups.
Tourism lays emphasis on having a lifetime experience of exploring new places and destinations. Also, in tourism, a person engages in a diverse culture.
In tourism, a planned itinerary and specific activity is present in a tour package. However, no planned itinerary and specific activity is present in travel.
When it comes to food, tourists always go to the restaurants where other tourists eat. But travellers are different; they eat where locals eat.
Tourists walk slowly, spend time in cafes, and click pictures of the places they visit or the things that attract them. As against, a traveller generally do a research on the places they visit and also checks the routes to get there. When they reach their destination, they like to know the history of that place.
Travelling takes place suddenly without any plan. But in the case of a tour, there are plans for every day, hour and in fact, moment. Furthermore, travellers can make changes to their plans depending on their needs and moods. But in tourism, people have to stick to their schedules, otherwise they miss the same.
A traveller seeks to learn the regional language so that he can communicate well with the locals to understand their lifestyle, culture, regional history and many more. Conversely, a tourist uses English as a medium of communication.
What is Ecotourism?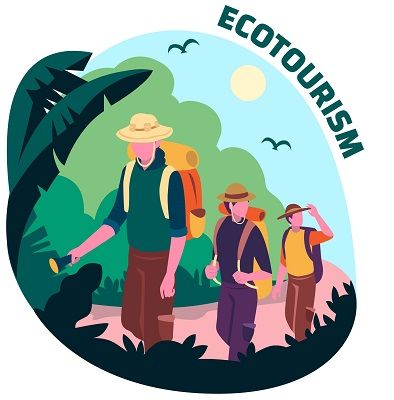 Ecotourism is a responsible and sustainable form of tourism. It focuses on the preservation of the environment and, at the same time, allows the visitors to have an immersive experience.
Conclusion
Tourism is a part of travel. However, all the travel is not tourism. Further, while a traveller is engrossed in the culture, a tourist loves to visit tourist spots at any location.