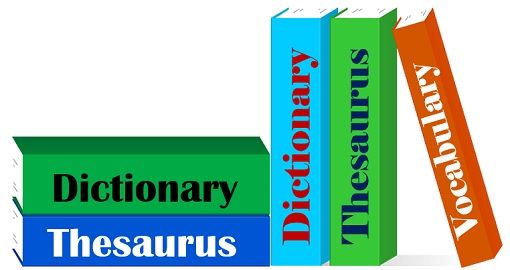 Dictionary and Thesaurus are two wordbooks or electronic tool which are used by students, writers and other people in day to day life, to find out meanings and related information of any word. A dictionary refers to an alphabetical directory of words with their meanings, of a language or discipline. It will also tell you the different contexts in which the word can be used.
On the other hand, Thesaurus is a treasury of words that enlist synonyms and antonyms. It is used to group alternative words with similar, related and opposite meaning.
Both dictionary and thesaurus are of great use to a person in increasing their vocabulary, because it helps in learning new words of a language, as well as it also improves the writing skills. The article given below will help you deeply understand the concept and difference between dictionary and thesaurus.
Content: Dictionary Vs Thesaurus
Comparison Chart
| Basis for Comparison | Dictionary | Thesaurus |
| --- | --- | --- |
| Meaning | Dictionary is a collection of words of a particular language with their exact meaning and other information. | Thesaurus refers to a form of dictionary wherein words having similar or nearly similar meaning are grouped systematically. |
| Arrangement | Alphabetic | Alphabetic or Thematic |
| Provides | Definition, context, pronunciation, etymology and orthography | Synonyms and antonyms |
| Purpose | To define a word, so as to use it correctly in sentences. | To find appropriate words and avoid repetition. |
Definition of Dictionary
A dictionary implies any alphabetically arranged list of words, with their meanings, in one or more specific language or discipline.
It can be a book wherein at the top of every page, you will find two guide words, which will tell you the first and last word on the page which you are at. Hence, if the word which you are looking for doesn't come in between those two guide words, then you can continue your search.
When you find the word of your interest, you will see that a dictionary not only contain meaning or definition of the term but a lot more than that. First of all, you will see a dot which will help you to understand the way to split up the word, into syllables, as well as you will also get to know how to spell and pronounce the word.
Further, it also indicates how to use the word in different contexts, from where it has been derived. Sometimes, you may also find the translations and equivalent words in various languages.
It can also be an electronic product such as a website or application, which are a great source for finding words and their meanings, spelling, pronunciation, origin, inflected forms and other ancillary details.
There are various types of dictionaries, such as a generalised dictionary, specialised dictionary, defining a dictionary, historical dictionary and an online dictionary.
Definition of Thesaurus
Thesaurus can be defined as a directory of words, that lists words as per the similarity in their meanings, i.e. synonyms and related words, as well as the antonyms. Further, you will also see what part or parts of speech the selected word is.
The arrangement of words in a thesaurus is either alphabetically, thematically or conceptually. It can be general thesaurus or online thesaurus. Thesaurus can be in the printed form (book) or electronic form (website, application, etc.), which provides alternative words for the word of your interest.
These are mainly used by the writers or authors to find the appropriate word to express an idea or say something in a different or better way and also avoid repetition of words.

Key Differences Between Dictionary and Thesaurus
The difference between dictionary and thesaurus are discussed in the points given below in detail:
A dictionary can be understood as a book containing a glossary of word meanings of a specific language or discipline. On the contrary, A thesaurus can be understood as the reference book, that classifies words as per the resemblance in their meaning and even contrasting words.
If we talk about the arrangement of words, the words are arranged in an alphabetical sequence in a dictionary. However, in the case of a thesaurus, the words are arranged either alphabetically, as in the case of a dictionary or thematically, i.e. the words having similar or related meanings are classified together.
A dictionary is useful in telling the correct and exact meaning of a word so that one can use it wisely in sentences. As against, the thesaurus will help you in choosing the right word to express your idea or say something.
A dictionary provides you with the definition, pronunciation, etymology (origin of words) and orthography (spelling) of the word. Conversely, a thesaurus will give you the synonyms and antonyms of the word.
How to remember the difference
To sum up the discussion, it would be apt to say these two have one thing in common that both index words of a specific field or language but a dictionary defines every word which it enlists as well as the various context in which the word is used.
Thesaurus will give you a list of synonyms and antonyms for every listed word. Further, the words shown by the thesaurus, are not always the exact synonym of a particular word, as it also shows the close substitute word for that particular word. Hence, if you are in doubt regarding the use of a word, you can open a dictionary to know the correct meaning for the same.