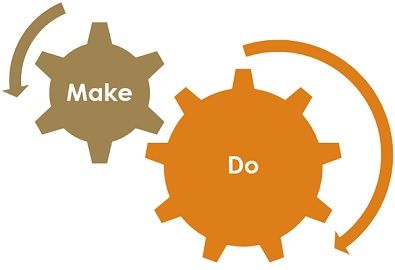 Do and make are action words, i.e. verbs, which are frequently confused, but they cannot be used interchangeably, as they differ a lot in their meaning and usage. Basically, the verb do is used when we are talking about work, task or activity. As against, make is used to refer to developing, constructing or preparing something.
The word 'do' is both the main verb and an auxiliary (helping/modal) verb. In general, it is used as an auxiliary verb to make questions, but in this article, we are using it as a main verb. Now, let's take a look at these examples to understand the difference between these two:
Once I will do my assignment, I will make food for everyone.
All I want to do is, make everyone happy.
In the first sentence, do is used in place of finish and make is used in place of cook. On the other hand, in the next sentence, do symbolizes an action and make indicates the outcome
Content: Do Vs Make
Comparison Chart
Basis for Comparison
Do
Make
Meaning
As a main verb, the word 'do' is used for indicating an action, obligation and routine tasks.
The word 'make' is used for developing, preparing something and for any kind of work you opt for doing.
Auxiliary verb
Do is also an auxiliary verb which is often used to make questions.
Make is not an auxiliary verb.
Stresses on
Process of performing or acting.
Creating or preparing a product or result of an action.
Examples
I did my homework in the evening.
You made me smile today.
How do you know Peter?
Can you make something for us?
She is doing her makeup.
I love to make new friends.
Definition of Do
Basically, 'do' means perform or achieve something. As a main verb, 'do' is commonly used to denote an action, obligation, routine or general tasks. Further, it replaces the verb in the sentence, when the action is obvious or clearly identifiable. The simple past, past participle and third person singular form of the verb 'do' are did, done and does respectively. Now, let's have a look at its usage:
It is used to perform general (non-specific) activities, task or job:

I have done my homework.
You did a great job.
Please do something, to help me.

For obligation:
It can also be used to accomplish or attain something:

She said, "she will do (= wash) the chores".
She likes to do (= complete) sudoku daily.

To discuss qualification and studies:

What have you done?
She has done Masters in Philosophy.

To participate in activities:

When I was a kid, I used to do cycling.

To talk about makeup and body care:

I am doing (= combing) my hairs.
Definition of Make
The word 'make' is an irregular verb, which means to form or create something, i.e. produce, construct or develop something. It may also refer to cause something to come into existence, i.e. cause an action/reaction. Now, let's have a look at the usage of make:
To create something:

I have made something for you.
What are you making today?
We made this NGO, to help poor people.

To talk about origin or source of something:

The jewellery is made up of pure gold.
This car is made in China.

To cause an action, or to force someone to do something:

What made you change your decision?
They made me stay there for the results.
This movie will make you cry.

To cause to be, i.e. to devise something, or appear as:

To make herself noticed, she started scolding the vendor at the market.
It is the beauty of the Taj Mahal, that makes it one of the seven wonders of the world.

It is used before nouns to talk about plans or decisions:

I think you should make a decision now.
She has made a plan for the Chrismas party.

To perform an action:

I need to make a list of candidates.
You should make some effort to pass the examination.

To earn something:

All the profit made by the company is donated for the welfare of the needy people.
He makes ₹1000 per day through his freelancing work.

To get a place or position:

Simon succeeded in making a place in women kho-kho team.
Key Differences Between Do and Make
The difference between do and make can be drawn clearly on the following grounds:
'Do' refers to carry out or accomplish something. It is mainly used for denoting action, obligation or routine activities. On the other hand, the word 'make' means to create or produce something and so it is primarily used to talk about food, relationship, production or development, plans or arrangements etc.
While do can also be used as an auxiliary verb, make cannot be used as an auxiliary verb.
Do discusses the action itself, whereas make focuses on the result or effect of the action performed.
Examples
Do
How do you do?
She does exercising daily.
I will do (= wash) the clothes.
Make
Make it fast
You are no one to make a comment on my looks.
She has made custard for the guests.
How to remember the difference
Both do and make are irregular verbs, as they do not have a regular '-ed' ending in their past tense form. The difference between these two lies in the context we use them, in the sense that for instance, suppose you are doing (= running) a business and making (= earning) money through it. So, doing business is the action, whereas making money is the effect of that action.
You can remember the difference by understanding the categories where they are used.