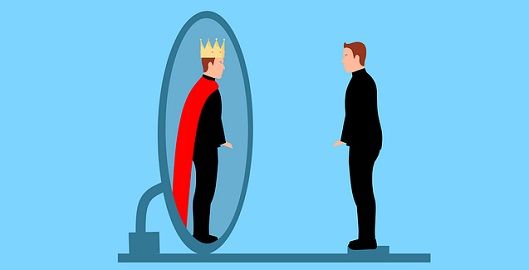 Both illusion and hallucination are perceptual disturbances. Hallucination is a false perception or wrong perception, in the absence of any object. On the other hand, the illusion is a false perception or perception in a wrong manner of a real object. So, in the case of hallucination, there is no object present, but it is the person who perceives that there is some object, but in the other case the person perceives an object differently than it is actually.
When there is hallucination, an individual is seen in complete darkness or hears some voices when there is no sound at all. However, in illusion, there is some external stimulus that is to be seen or heard, but the impression received by the person concerned is misinterpreted.
This post will help you understand the basic difference between illusion and hallucination.
Content: Illusion Vs Hallucination
Comparison Chart
| Basis for Comparison | Illusion | Hallucination |
| --- | --- | --- |
| Meaning | Illusion is the misperception of an real external stimulus like perceiving the shape, size, color, texture, height, etc. of the object differently. | Hallucination is a false sensory perception, which a person experiences without actual external stimulus. |
| Stimuli | Present | Not Present |
| Experience | Experienced by many people. | Experienced by the person concerned only. |
| Normal | Yes, it is absolutely normal. | No, it is not normal, it represents mental illness. |
| Example | Perceiving a black wire as a snake. | Perceiving a snake while there is nothing. |
Definition of Illusion
When a person wrongly perceives one object in a way that is not the same as the actual quality of the object, it is called illusion. Therefore, in an illusion, we mistakenly perceive an object for some other object. Illusion can also be termed as an error of perception.
So, the misperception arising out of a misinterpretation of the information gathered by the sensory organs is regarded as an illusion. Further, the misperception of a real external stimulus generally takes place when the basic level of sensory stimulation i.e. consciousness is low.
One should not confuse between an illusion and dream, and also between illusion and imagination, because in the case of illusion the perceived stimuli are present however in the case of a dream, there is no object present in reality. Conversely, in the case of imagination, the perceived object is a creation of the mind of the person concerned, which is not the case of illusion.
Type of Illusion
Causes of Illusion
There are a number of causes of illusion, these are:
Confusion
Eye Movement
Tendency Towards Wholes
Perspective
Preconception
Emotion
Habits
Contrast of Stimuli
Defects of Sense Organs
Imperfect Isolation
Also Read: Difference Between Sensation and Perception
Definition of Hallucination
When a person experiences false sensory perception, in the absence of any actual external stimulus or say object, it is called hallucination. It must be noted that hallucinations are usually experienced in the real outside world, and not within the mind of the person concerned. In this way, hallucination differs from imagination. It is an experience that appears to take place without any outside source. It is an alleged perception of something, which is not really there.
Criterion of Hallucination
To be labeled as a hallucination, it must fulfill the following criterion:
Perception must take place without a stimulus (object).
It must be as clear (vivid) as a real perception.
It must occur in outer and objective space.
It must be under the wilful control of the person.
Types of Hallucination
There are five different types of hallucination, these are: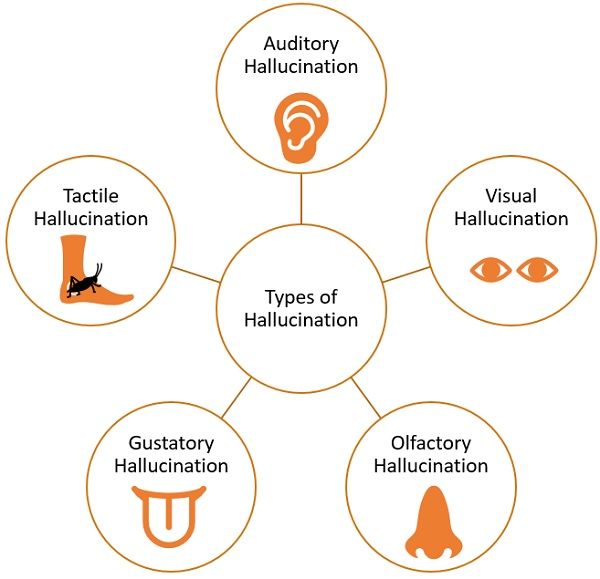 Auditory Hallucination: It happens when a person hears some voices or sounds, telling him/her to do something.
Visual Hallucination: It takes place when a person says that he/she can see someone or talks to someone, who is not present there.
Olfactory Hallucination: A form of hallucination in which the patient smells an odor that is not present.
Gustatory Hallucination: Represented by the tongue, it is identified by the taste that is not related to the food, that is being consumed. This may result in denial to eat.
Tactile Hallucination: Tactile hallucination is when the patients complain of insects crawling on their bodies when in reality there is nothing.
Also Read: Difference Between Hearing and Listening
Key Differences Between Illusion and Hallucination
As we have already discussed the meaning and types of these two, now we will talk about the differences between illusion and hallucination:
Illusion is a misperception of something objectively existing in a manner that causes misinterpretation of real nature. It occurs when a sensory stimulus is present but is falsely perceived and interpreted by the person. On the other hand, hallucination is that form of perception wherein an individual sees vision or hears voices, which does not exist, i.e. in reality there is nothing and apart from that person, no other person around him perceives the same thing.
In the case of illusion, real external stimuli are present which are perceived differently by people. Conversely, in the case of hallucination, no real external stimuli are present, but the person perceived it as a present.
Illusion is experienced by many people, whereas hallucination is person-specific, i.e. it is uniquely and personally experienced by that person only.
Hallucination is an abnormal symptom that often occurs as a result of mental illness, a side effect of medications, or epilepsy. And so, the person needs to consult specialists like a psychiatrist or neurologist. On the contrary, Illusion is quite common in people, there is nothing abnormal about illusion.
Example
| Illusion | Hallucination |
| --- | --- |
| A football in the hands of a kid appears bigger than the same football in the hands of an adult. | No one is standing next to a person but you perceive that someone is standing. |
| Black jeans are crumpled on the floor and you perceive it as a black dog. | Hearing a voice that someone has called your name and responding to it, while no one has called you. |
Conclusion
In a nutshell, illusion and hallucinations are physiological and psychological conditions of the person. A delirious person may hold that their perceptual experiences are true and act in the same manner.