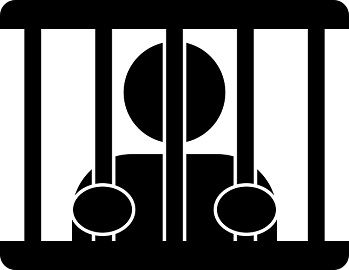 In our day-to-day conversation with people, we use the word 'jail' in place of 'prison' quite commonly. Prison implies a detention center, which holds convicts for a long term for the purpose of punishing them, for the crime committed by them. As against, jail is a place where people who are charged or accused of a crime are held by the Police while awaiting trial.
What is Imprisonment?
Imprisonment is a system made by the authorities of the countries to deal with the wrongdoers, wherein the person charged with a crime is arrested and detained by the cops against their will, and kept in prison where their freedom is curtailed, to punish them for the offence committed by them and also to keep them away from the society.
While in some countries jail and prison are two completely different facilities, others use the two words synonymously. However, there are subtle differences between jail and prison, which we are going to discuss in this post.
Content: Jail Vs Prison
Comparison Chart
| Basis for Comparison | Jail | Prison |
| --- | --- | --- |
| Meaning | A jail is a restricted confinement facility where persons accused or convicted of a crime are sent, as a part of the punishment. | A prison is also a restricted confinement facility where convicted criminals are sent, after getting sentenced, to complete their punishment. |
| Designed to | Hold criminals charged with petty offences, or just arrested. | Hold dangerous offenders who have committed heinous crimes. |
| Facility | Small | Comparatively large |
| Inmates | Those who are awaiting trial or convicted of minor crimes. | Those who are convicted of offence |
| Number of inmates | Few | Many |
| Facility | Short term | Long term |
| Objective | To arrest and hold individuals who are waiting for trial and sentence. | To carry out rehabilitation and reformation of the criminals. |
Definition of Jail
By the term 'jail' we mean a legal confinement center, where people stay when they are arrested or awaiting trial, who are not able to make bail. It is meant to held criminals or accused persons in lawful custody, typically for temporary incarceration.
It houses the following people –
Pretrial detainees
Inmates sentenced locally or by state
Arrested probation violators
Defendant convicted of misdemeanors
Juveniles
Absconders
Arrested parole violators
It plays a significant role in the criminal justice system, by providing safe detention at different levels in the criminal justice process. It is a multipurpose institution that performs functions like social isolation and confinement, repentance, protection, punishment, and deterrence.
Also Read: Difference Between Probation and Parole
Definition of Prison
Prison can be defined as a punitive and corrective facility, operated by the government, so as to deal with serious offenders.
It houses convicted criminals for a long term. The aim is to isolate and incarcerate them, for a definite term. In this facility, the prisoners are physically detained and their liberty is retrained. Indeed they are bound to follow the rules and norms of the prison.
Do You Know?
In India, prison is administered by the concerned State and Union Territory, and it comes under the Ministry of Home Affairs.
As per law, convicted criminals either undergo probation or are fined or imprisoned. Initially, the purpose of imprisonment was to keep the convict in safe custody, but this tendency has now been replaced with the reformation of the convict in the first place. So, it serves three main purposes, which include:
Custodial,
Coercive
Correctional
Here, rehabilitation and reformation programs are organized for the transformation and welfare of prisoners. However, sometimes the object cannot be achieved due to the environment and treatment given to them.
It aims at providing protection of society, imposition of punishment, rehabilitation of criminals, provision of basic needs to the convicted criminals, providing security to inmates from each other and also from people external to the community
Security Levels in a Prison

Minimum: It may include only a small number of physical barriers to escape and various programs are organized for the offenders.
Medium: When the security level is medium, there are separate walled cells of the prisoners. Also, a number of vocational education programs and rehabilitation are provided to the offenders.
Maximum: Convicts sentenced for heinous crimes are kept here, in a separate imprisonment facility.
Administrative Segregation: In is separate confinement, where offenders are kept in individual cells, 23 hours a day.
Also Read: Difference Between Detention and Arrest
Key Differences Between Jail and Prison
As of now, we have understood the meaning of the two terms, let us move further to understand the difference between jail and prison:
Jail implies a provisional multi-use incarceration facility acting as an opening to the criminal justice system. Contrarily, Prison implies public correctional facility where prisoners convicted of serious offenses are sent, to pay for the crime committed by them.
While jail is made for the criminals who are charged with minor offenses or recently arrested, Prison on the other hand is meant to keep criminals who are convicted for heinous crimes committed by them.
As a jail is a short-term facility, its capacity is smaller in comparison to a prison.
Primarily, a jail houses those individuals who are waiting for their trial, or awaiting sentence or convicted for a temporary period, i.e. less than a year. This means that in jail, individuals who are awaiting trial may come out innocent after trial. In contrast, prison houses those individuals who are convicted for a long term, which is more than a year or so. This means that a prison houses criminals who are proven guilty of an offense in the court of law.
As the capacity of the jail is small, it can keep few people only whereas, a prison can keep many prisoners at a time.
A jail is a short-term facility, i.e. accused or convicts stay here for a specified period only, and then they are released either on bail or after their punishment is over. Conversely, prison is a long-term facility, i.e. those convicts who are sentenced for more than one year are transferred to prison.
A jail is built to keep that individual who is arrested in relation to a crime. Also, it holds pre-trial defendants if they are not released on bail. Unlike, Prison is not just for providing punishment to the criminals, but it also tends to rehabilitate and reform them, so that they can become a good human being when they are back to the society.
Rights of Prisoners
There are several basic rights that are granted to the Prisoners, discussed hereunder: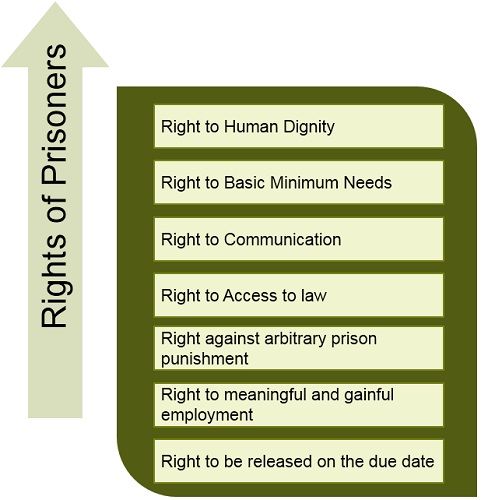 Right to Human Dignity: Prisoners must be treated like humans, they should be free from repression and personal abuse. Also, they should be free from aggression by any officer from the staff and other inmates. They should not be deprived of the personal rights provided by the constitution.
Right to Basic Minimum Needs: The basic minimum needs of the prisoners have to be satisfied, be it related to food, clothing, medical care, clean water, sanitation, bedding, appropriate living conditions, etc.
Right to Communication: They are entitled to communicate with the outside world, as well as interviews must be given from time to time to family, friends, etc. Prisoners are also entitled to be informed about the happenings around the world via communication media like TV, radio, newspaper, etc.
Right to Access to law: Prisoners must be informed about all the legal rules as to the conditions of detention. They can also consult their lawyer. Along with that, they can also get information on admission with respect to legal rights regarding the review, appeal, and revision, and also get the relevant documents for the same. Prisoners have the right to communicate with the prison administration and authority while they seek redressal of violation of their rights, and also for the complaints and grievances.
Right against arbitrary prison punishment: If there is a disciplinary violation, the prisoners are entitled to be informed about the nature of the violation of the concerned Act. Also, their defence is to be heard by the authorities and the decision of the proceedings must be told to them.
Right to meaningful and gainful employment: Prisoners can get employment and wages for the work performed by them in prison.
Right to be released on the due date: They are also entitled to be released from the prison when it is due.
Also Read: Difference Between Fundamental Rights and Human Rights
Types of Jails in India
In India, there is no distinction between jail and prison. Hence, the types of jail include: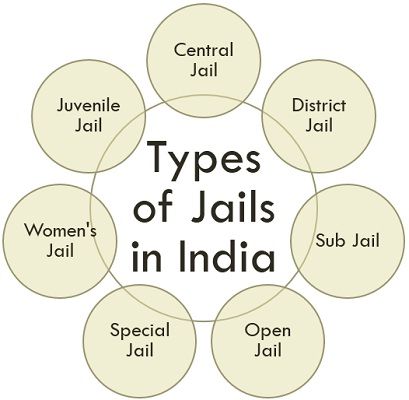 | | |
| --- | --- |
| Central Jail | Those who are convicted for imprisonment for a long term are sent to central jail. It is large in terms of capacity and it provides rehabilitation facilities to the prisoners. |
| District Jail | In case, a state or union territory is not having any jail, the district jail serves the purpose. |
| Sub Jail | These are small incarceration centers, that exist at a sub-divisional level which has a jail-like set-up. |
| Open Jail | As the name suggests, these jails have minimum security. Those convicts who showcase good behavior are sent to these facilities. |
| Special Jail | These jails are opposite of open jails, as they have a very high level of security, that houses a specific category of prisoners, like terrorists, serial killers, habitual offenders, etc. |
| Women's Jail | Jails which are dedicated to female convicts only are women's jail. |
| Juvenile Jail | It is a youth detention center where minors or juveniles are kept, with various facilities including child welfare and rehabilitation. |
Also Read: Difference Between Bail and Bond
Conclusion
Both jail and prison are public institutions, built with an aim of introducing an effective criminal justice system in the country, within which those who violate rules and laws of the state or commit offences are given penal treatment.