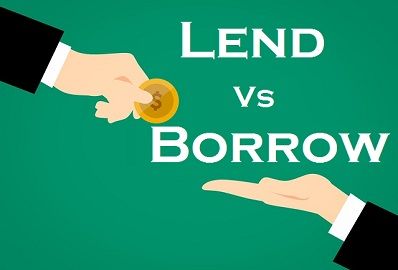 The crucial difference between the word 'lend and borrow' lies in the direction of action, in the sense that they usually mean the same thing, i.e. to give or take money from someone else, with the understanding of returning it in the future. We use lend when we are talking with the giver's perspective. But when we talk with receiver's standpoint, we use the word borrow. Let's understand this with an example:
Why did you borrow money from Anamika, when I already lent the money you needed?
Once Peter borrowed a laptop from Kate, now he lends laptops to people.
In these two cases, you might have noticed that borrow is used in place of "take", while lend is used as "give". So, a little bit of confusion regarding these two may be cleared now. Read the article for using the two words correctly and confidently.
Content: Lend Vs Borrow
Comparison Chart
Basis for Comparison
Lend
Borrow
Meaning
Lend means to give or grant an amount of money or any other thing to any person, for a limited time period.
Borrow means to take or accept an amount of money or any other object from an individual, for a definite period of time.
Verb
Irregular verb
Regular verb
Standpoint
Giver
Receiver or Acceptor
Object Pronoun
Yes
No
Example
Will you lend your cellphone to me?
Can I borrow some bananas from you?
What amount did you lend me last week?
Harry borrowed a pair of shoes last week from Robert.
This is the dress, which I promised I would lend you.
Did you borrow any chilly cutter from neighborhood?
Definition of Lend
'Lend' means to grant something to someone, for a short period of time or for a definite purpose, with the expectation to get it back, when the term for which the object is lent, is over or the purpose is accomplished. Let's take a look at how it can be used in our sentences:
To temporarily, let out or give permission for using an object to any person, on the condition of getting it back in future:

If you give me your new watch, I will lend my car to you.
Alex refused to lend his pen to Joe during the examination.

The word 'lend' is basically a finance jargon, as it is used when a bank or any other financial institution lends money to individuals or business as a loan at a fixed rate of interest on the principal sum. The money is lent on the condition that it should be repaid in the future along with interest accrued on it till date:

The bank approved his loan and lent ₹2,00,00.
Bank lends money to all the customers, at a specified rate of interest.
The financial institution changed its policies for lending money to the business.

It can also be used when you provide support/assistance to someone who needs it:

Jack as a consultant lends his advice to the people in taking the right decision in their career.
Definition of Borrow
When a person takes or accepts something owned by someone else for a definite time, along with the right of using it, with an intention to return it back, when the purpose for which it is taken is accomplished, or the term is over, we use the word borrow. It can be used in a variety of ways, take a look:
To temporarily receive something belonging to another person, intending to give it back to the owner:

I told Priya, that she could borrow my dress if she likes.
She needs to borrow a paper from someone, to write the correct email address.

In finance, the word borrow is commonly used to take money from an individual, bank or financial institution for a specified purpose, in the form of a loan, for a definite period. The principal so borrowed has to be repaid with interest accrued on it.

Harsh borrowed some money from the financial institution to start his business.
Last month, Jimmy borrowed ₹5,00,000 from the bank for constructing the house.

It can also be used when a word is derived from some other language:

The word 'micro' is borrowed from the Greek word 'mikros' which means small.
Key Differences Between Lend and Borrow
The difference between lend and borrow can be drawn clearly on the following grounds:
Lend can be described as giving or granting any person, the right to use any object (including money) owned by the lender, expecting that it will be returned later. On the other hand, the word borrow is used when a person takes or accepts for a short period something owned by someone else, with an intention to give it back, after its use.
Grammatically, lend and borrow are two different verbs, in the sense that lend is an example irregular verb, as it does not ends with '-ed', when changed to simple past and past participle form. As against, borrow comes under the category or regular verb, because it has a typical '-ed' ending when it is converted into past form.
As we know that every transaction affects two sides, and so does lend and borrow, wherein lend represents giver's point of view, while borrow indicates acceptor or receiver's standpoint.
When it comes to sentence structure, lend and borrow, object pronoun can be applied when we use the word 'lend' to our sentences. Conversely, we do not use object pronoun when we use the word 'borrow' in our sentence.
Examples
Lend
I have lent my sunglasses to him, a month ago.
Many times Peter lends Ali his motorbike.
No one lent him money when he needed it most.
Borrow
Students often borrow a pen at the time of exam and don't bother to return it.
To start the new project, I think we should borrow some money from the bank.
Can I borrow a pair of trousers from you?
How to remember the difference
To sum up, we can say that lend and borrow are the two sides of the same coin, wherein the person who lends (gives) the amount or object is called as a lender, while the person who borrows (gets) the amount or object, is termed as the borrower.