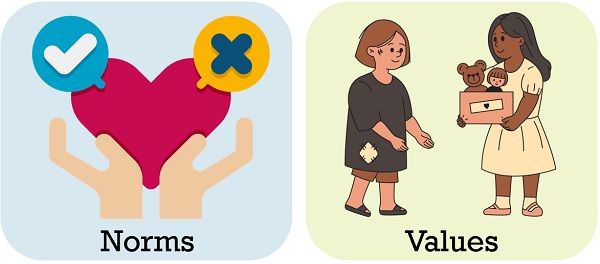 Norms prescribe, while values act as a criterion for evaluations. Norms and values constitute the foundational stone of society's social structure. This is because they guide the social behaviour of people. Here, it is worth noting that the value at one level can turn out to be the norm at another level.
Norms and values are strongly related to each other. These are all about accepted assumptions regarding what is right and wrong, desirable or undesirable.
Norms are the standards or rules which society considers normal or acceptable. In contrast, values are those conceptions which people consider as important. In this post, we will look into the differences between norms and values.
Content: Norms Vs Values
Comparison Chart
| Basis for Comparison | Norms | Values |
| --- | --- | --- |
| Meaning | Norms are the acceptable or correct forms of behaviour accepted by society. | Values are the criteria on the basis on which we take our decisions. |
| What is it? | Norms establish standards to which we aspire. | Values are the principles which a person believes. |
| Guidelines | Specific Guidelines | General Guidelines |
| Criteria | It should be complied with. | It should be exemplified. |
| Varies | From society to society | From individual to individual |
What are Norms?
Norms are the rules, principles and standards that prescribe how a person should act, think or feel in specific situations. It directs as well as prohibits behaviour in various situations, be it formal or informal. It covers many aspects, from when, how and with whom we should talk or when we can speak lie.
Enforcement of norms takes place through the process of internalization. Individuals internalize norms so that it becomes part of their overall personality. They do so because they believe that it is the right and correct way to act. And that is why people feel guilt when they break any norm.
Norms are contained in values and directives for actions. They define the manner to behave, which is regarded as normal in a specific society. In short, they specify the appropriate and inappropriate behaviour.
Therefore, a norm is a rule or pattern for action. These are the rules of conduct on the basis of which an individual's behaviour is judged. These are the guidelines, with the help of which we preferably manage our actions, along with others.

Characteristics of Norms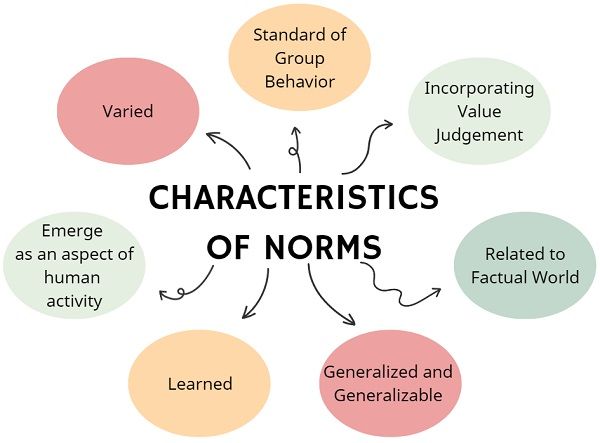 Standard of Group Behaviour: When different individuals interact, various standards are developed. These standards control their relationship and modes of behaviour.
Incorporating Value Judgement: Group members show specific consistency in their behaviour. These regularities are explained in terms of social norms. It relies on social values, often justified by moral standards.
Related to Factual World: In an attempt to be effective, norms must correctly portray the relation between real events. It must consider practical situations.
Generalized and Generalizable: To a considerable degree, norms are both generalized and generalizable. It seeks the right action and refers to a generally applicable reason for the rightness of the conduct.
Learned: In the process of social interaction with different individuals, i.e. socialization, individuals learn norms from each other. So we could say that two or more persons share norms.
Emerge in the context of any aspect of human activity: Norms may emerge in connection to any sort of human activity. Norms may be related to feeling, thinking, perceiving, judging, etc. Hence, there are clear-cut and objective norms for undertaking scientific investigations and judging dance forms.
Varied: These are extremely varied, not just in terms of objects but also concerning important characteristics in different societies and historical periods. There are a few norms which are universally accepted and followed. At the same time, there are some norms which are followed by a handful of groups. Moreover, we learn some norms in the early stages of our life by way of identification and socialization. Also, there are some norms which we learn in later life.
Types of Norms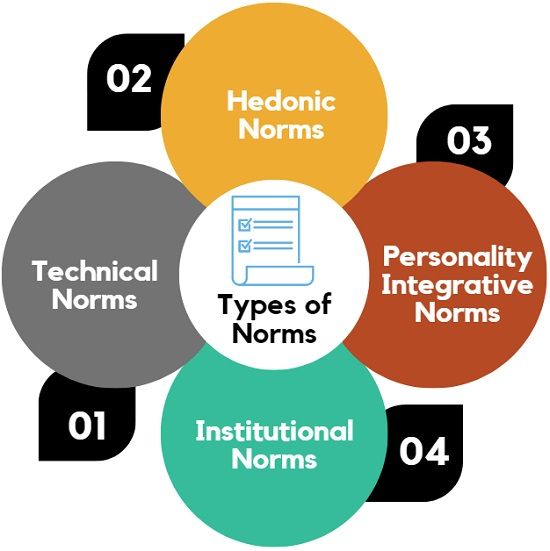 Technical Norms: These norms are related to optimum means to attain specific goals. It defines the right actions to handle physical, biological and social elements in existing situations.
Hedonic Norms: When the goal is fulfilling a person's desire for pleasure and affection, the norms are hedonic.
Personality Integrative Norms: When an individual has to make a choice between various personal objectives and satisfactions. The choice is driven by personality-integrative norms.
Institutional Norms: These are highly definite, strongly adhered to norms that control conduct. You may find these norms in any group or society, as everyone knows and accepts them. Also, such norms get the support of legitimate authority, and individuals learn them in the early stages of life.
Also Read: Difference Between Rules and Regulations
What are Values?
Values are abstract interpretations that particular kinds of actions, systems and behaviours are right, moral, or good. Hence, these are acceptable and desirable. These are not written or clearly spelt out. However, one can infer them from the behaviour of people.
Some of our values vanished over a period of time, while some values have persisted since the existence of society.
Values serve as the normative and moral support that directs the behaviour of group members. Also, it represents the premise of right and wrong. It is not wrong to say that values are high-order norms.
Values are ideas that individuals or groups hold as regards what is desirable, good or bad. The individual derives values from a specific culture of which the person is a member.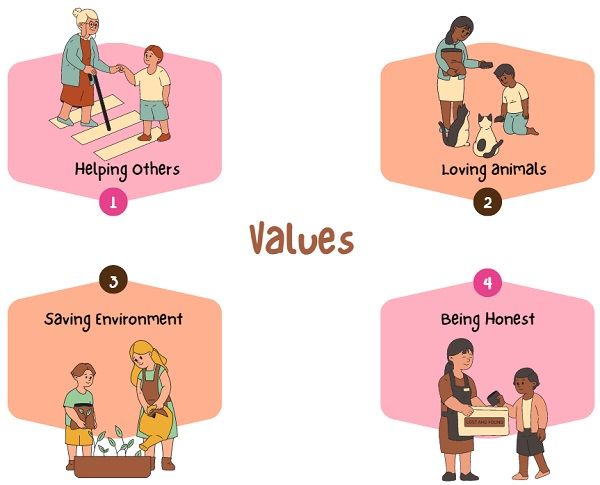 Values are general, abstract guidelines for our choices, goals, decisions and actions. Values represent shared ideas of a group or a society about what is right or wrong, good or bad, correct or incorrect. In other words, they are the direction of our life. We can share and learn values in the group. These are diversified, which means they vary from one place to another and one culture to another.
Positive Values: Honesty, Integrity, Truthfulness, Respect for others, Mindfulness, etc.
Negative Values: Theft, Dishonesty, Falsehood, Disrespect, etc.
What is Value Judgement?
A value judgement relies on the individuals' behaviours and objects, which are judged against the ideal.

Characteristics of Values
It indicates the highest priorities of individuals and strongly held driving forces.
These are the core of our personality and are strong force that affects behaviour.
There are several values that are constant plus durable.
It possesses the element of judgement.
Also Read: Difference Between Ethics and Values
Key Differences Between Norms and Values
Norms are certain prescriptions of how an individual should behave to remain consistent with the values of modern society. On the other hand, Values are the beliefs of individual that drives people to act in a certain way. It guides human behaviour.
Norms depend on values. It determines, guides and predicts our behaviour.
Norms are specific. It implies an array of expected behaviour concerned with a specific situation or position in a social setting. However, values are general, as they represent the overall ideal.
Norms provide specific rules concerning what should or should not be done by people in specific situations. As against, values are notional standards of desirability. These are more abstract and universal as compared to norms.
Norms are the rules for particular situations. They guide us on what, how, when, why and what not to do. Conversely, Values imply the moral principles and beliefs of a person.
Norms differ from one society to another. On the contrary, values differ from one person to another and from one society to another.
Conclusion
Above all, norms are unwritten rules often that society recognizes and that influence the behaviour and actions of people. Values are something that we live by. These are the standards which people consider as important. It is related to our moral conscience.