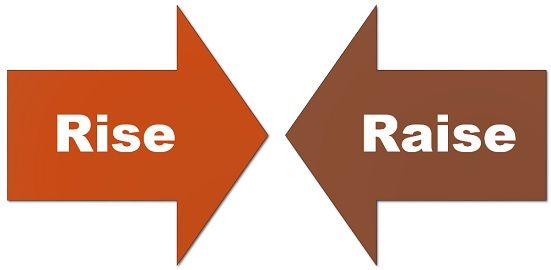 The words 'rise and raise' commonly indicates an increase or improvement in anything. However, they are not one and the same thing, as rise usually means growth or increment in something, whereas raise denotes to induce, elevate or augment something. Hence, you can understand how close these words are, in terms of meaning. So, first of all, let's have a look at the examples given below:
As there is a rise in the corruption level, few youngsters raised their voices against it.
If the company denies raising the salary of employees this year, the rate of employee turnover may rise.
In these two examples, we've used both the words but at different places, where they fit suitably. In both the sentences rise means 'an increase', whereas raise is used differently, i.e. in the first one, it means to 'speak out', whereas in the second example it means 'hike'.
Content: Rise Vs Raise
Comparison Chart
Basis for Comparison
Rise
Raise
Meaning
Rise means to proceed from a lower rank to a higher rank. It refers to increase in level, status, strength, etc.
Raise means to cause to rise, i.e. to lift up or boost something or increase its level, status or strength, etc.
Pronunciation
rʌɪz
reɪz
Verb
Intransitive Verb
Transitive Verb
Type of verb
Irregular verb
Regular verb
Examples
The moon rises every evening.
Mrs Mehta raised her children alone.
A conflict rose between the colleagues due to promotion.
Those who want to go for a picnic can raise their hands.
Due to continuous lay off by the IT companies, there is a rise in the unemployment rate.
Pranav raised the matter at the meeting.
Definition of Rise
The word 'rise', is used to talk about something that moves from lower rank to a higher rank or its value increases/improves. It is also used when someone gets up from a chair or bed. Now let's take a look at the uses of rise:
It represents an upward movement:

The water level of the river has risen due to heavy rains in the city.
The kite rose up in the air.

It is also used when someone stood up, or get out of bed:

The Principal rose from his seat, to welcome the Cheif guest at the annual function.
My mother rises at 6'O clock daily.

To become successful:

She worked really hard to get a rise in her career.
She joined as a clerk in a bank and risen through the position.

To rebel, i.e. start opposing something that is wrong:

The students rose against criminals.

Increase:

A rise in the prices of petrol decreased the usage of motorbikes.
Paul's blood pressure is rising.
Definition of Raise
We often use the word 'raise' to mean lift or put something up, to a better level or rank. It may also be used when the strength of something is increased or bring something to exist. Now, have a look at its usage:
To lift something up:

All the students raised their hands when the teacher asked who likes to go for an outing?

To make something better or increase:

A little encouragement raised her morale.
The government raised the interest rate on the provident fund.

To speak up or talk about:

One should raise his/her voice, against the crime.

To bring something into existence:

Shahjahan raised (= established) Taj Mahal for his beloved wife, Mumtaz Mahal.

To collect money:

Joseph brought capital and raised some money from the bank for his startup.

To represent upbringing or developing:

After the demise of their daughter, they adopted a kid and raised her like one.
To raise crops, the soil must have essential nutrients.

To set a higher standard or bar:

The latest technology developed by the company raised the bar for other companies in the industry.
Key Differences Between Rise and Raise
The difference between rise and raise can be drawn clearly on the following grounds:
The word 'rise' is used when something increases in terms of level or its position gets better over time. One can also use 'rise' when someone gets up from a resting position. As against, the word 'raise' is used when something escalates, i.e. moves to a higher level, or emerges.
The verb 'rise' is an intransitive one, because it does not take a direct object. On the other hand, raise is a transitive verb, because it takes a direct object.
'Rise' is an irregular verb, because its simple past and past participle form, does not have a regular 'ed' ending. Conversely, 'raise' is a regular verb, its past form have normal 'ed' ending.
Examples
Rise
There is a rise in temperature, since last week.
Due to rising pollution in Delhi, the CM banned the entry of trucks, for the next three days.
The rate of inflation has risen in the past seven years.
Raise
The bank raised the interest on home loans.
One can raise money from doing business.
She requested the manager to raise her salary.
How to remember the difference
The best tip to recognize the difference between raise and raise is that we use the verb 'rise' when something changes or shifts to a better rank, i.e. moves upward. On the other hand, we use the verb 'raise' when we cause something to rise, i.e. something lifts up or emerges, due to someone, then we use 'raise'.