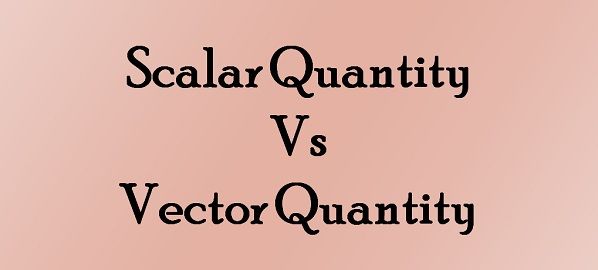 Scalar quantity refers to the quantity, which has only magnitude and no direction. On the other hand, vector quantity implies the physical quantity which comprises of both magnitude and direction.
Physics is a science based on mathematics. While studying physics, we go through a number of concepts and notions, which rely on mathematics. The mathematical quantities explaining the motion of a body are bifurcated into two groups, i.e. scalar quantity and vector quantity.
For a layperson, the two terms, are same, but in the world of physics, there is a huge difference between scalar and vector quantity. So, take a look at the article provided to you, for better understanding.
Content: Scalar Quantity Vs Vector Quantity
Comparison Chart
| Basis for Comparison | Scalar Quantity | Vector Quantity |
| --- | --- | --- |
| Meaning | Any physical quantity that does not include direction is known as scalar quantity. | Vector quantity is one, that has both magnitude and direction. |
| Quantities | One-dimensional quantities | Multi-dimensional quantities |
| Change | It changes with the change in their magnitude. | It changes with the change in their direction or magnitude or both. |
| Operations | Follow ordinary rules of algebra. | Follow rules of vector algebra. |
| Comparison of two quantities | Simple | Complex |
| Division | Scalar can divide another scalar. | Two vectors can never divide. |
Definition of Scalar Quantity
The term 'scalar quantity' is defined as a quantity that has only one element of a number field, attached to a unit of measurements, such as degrees or meters. It is a quantity that exhibits magnitude or size only, i.e. it is defined by a numerical value, along with a measurement unit. For example, Speed of the car, body temperature, distance between two locations, etc.
The rules of ordinary algebra can be applied for combining scalar quantities, such that scalars can be added, subtracted or multiplied, in the same way, as numbers. However, the operation of the scalar can only be possible, for the quantities with the same measurement unit.
Definition of Vector Quantity
A mathematical quantity that needs two independent characteristics to describe it completely, i.e. magnitude and direction. Here magnitude represents the size of the quantity which is also its absolute value, while direction represents the side, i.e. east, west, north, south, etc. For example, Displacement between two points, velocity and acceleration of a moving body, force, weight, etc.
A vector quantity follows the triangle law of addition. An arrow is used to indicate vector quantity, placed over or next to the symbol that denotes vector.

Key Differences Between Scalar and Vector Quantity
The following points are noteworthy, so far as the difference between scalar and vector quantity is concerned:
.The scalar quantity is described as the quantity that has only one characteristic, i.e. magnitude. The vector quantity is a physical quantity which needs both magnitude and direction to define it.
Scalar quantities explain one-dimensional quantities. On the other hand, multi-dimensional quantities are explained by vector quantity.
Scalar quantity changes only when there is a change in their magnitude. As against this, vector quantity changes with the change in their magnitude, direction or both.
Ordinary rules of algebra are followed by scalar quantities to perform operations like addition, subtraction and multiplication, while for the performance of operations, vector quantities follow vector algebra rules.
When comparing two scalar quantities, you have to consider only the magnitude, whereas when the comparison of two vector quantities is made, both magnitude and direction are to be taken into account. In this way, vector quantities are a bit more difficult to deal, as compared to scalar quantity.
Last but not the least, scalar quantity can divide another scalar but this cannot be done in the case of a vector quantity.
Conclusion
In short, scalar quantity gives you an idea about how much of an object there is, but vector quantity gives you an indication of how much of an object there is and that also in which direction. So, the main difference between these two quantities is associated with the direction, i.e. scalars do not have direction but vectors do.