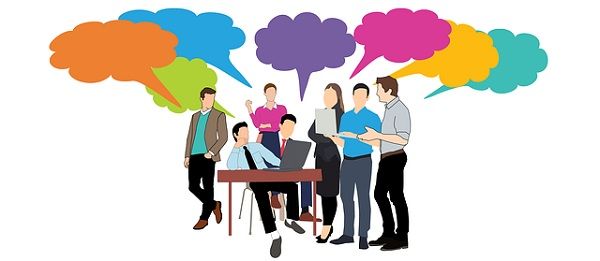 There is a very slight but significant difference between the verbs 'speak' and 'talk'. As both are used when there is a verbal communication taking place between two or more people, it is common to get confused between these two. However, talk is a straightforward word, which we use in casual conversation.
As against, speak is more of a formal word, which is mainly used in critical or hypothetical situations. Let's have a look at the examples below to understand them:
While we were talking, Ani said, she will speak to her Manager.
The teacher spoke to my parents about how I talk endlessly in the class with my friends.
In these two examples, we have used both the two words differently. We use the word talk to denote conversation, whereas speak means 'to have a word with' in the first case and 'to introduce a conversational partner' in the second one.
Content: Speak Vs Talk
Comparison Chart
Basis for Comparison
Speak
Talk
Meaning
Speak is a verb used to when we talk to someone about something in a sophisticated manner.
We use the word 'talk' for any kind of communication between two persons, in which they express their feelings or views and exchange information.
Verb
Irregular Verb
Regular Verb
Communication
One way or two way communication
Two way communication
Focus
On the individual who produces words.
On a person who is speaking and at least one listener.
Examples
Could you please speak loudly?
Why are you talking?
Your eyes speaks more than you do.
Don't talk behind my back.
My teacher spoke to me about my results.
I will talk to Sam.
Definition of Speak
The word 'speak' is commonly used when someone is addressing or saying something to a large audience. When we speak something, the people may or may not be involved in the conversation, as they are only listening to what the speaker is speaking. Let's have a look at the points given below to understand its usage:
It is used to say something to someone, by using voice:

Can I speak to Mr Potter?
Riya is speaking ill about the new teacher.

To address a large group, i.e. formal talk:

Melissa will speak in front of 1000 people at the seminar.
The Prime Minister speaks to the citizens on the radio every Independence Day.

When one is able to communicate in a specific language:

Peter speaks French very well.
Do you speak Spanish?

To express something without using words:

Her body language spoke a lot about her personality.

To express the views, condition or feelings of another person or represent a group:

You have to speak for all of us.
The union leader spoke for all the employees and workers.

Mention or talk about:

The novel speaks of lost love.

When we introduce or address a conversational partner:

The manager spoke to me about the holidays.
Definition of Talk
We use the verb 'talk' when an active communication takes place between all the persons present in the conversation. When we talk, we are actually saying something to provide information or express feelings. Let's take a look at the usage of talk, with the help of points given below:
To speak to someone:

I was just talking to her about the accident.
The teacher saw me talking to Zain.
Whom is she talking to?
I talked to my parents for over an hour.

It also means to discuss something to another party, to settle any matter personal/legal or come to a conclusion:

I think you need to talk.
Talks between the management and striking workers have ended.

It is also used to put stress on the importance of something:

The article talks about 100 most inspiring women of the world.

Hearsay or rumour:

There is the talk of an auction.

To allude:

Is she talking about the latest news?
What are you talking about?

To give a lecture:

The next student will talk about poverty and population.
Key Differences Between Speak and Talk
The difference between speak and talk can be drawn clearly in the following ways:
The verb 'talk' means to verbally interact with people in order to convey some information, share feelings or views, etc. i.e. to converse. On the other hand, the verb 'speak' means to exchange information, views, opinions and feelings, in a verbal or non-verbal manner, to address a large audience.
Speak is an irregular verb, which does not have a regular '-ed' ending in its simple past (spoke) and past participle (spoken) form talk is a regular verb. As against, talk is a regular verb, which has a regular '-ed' ending, in its past forms, i.e. talk becomes talked when used in past tense.
Talk is often used in the conversational setting, i.e. when there is proper two-way communication between the parties, where one party says something and other reverts back. Conversely, speak is often used for one way communication, i.e. when a person expresses or shares something with a large group of people, and the group listens. However, speak can also be used for two way communication, but only when the situation is severe and formal.
In the case of 'talk', the focus is on both the parties to the conversation, i.e. the one who is producing words and at least one of the listener. In contrast, when we use 'speak' the stress is made on the one who produces words, i.e. the speaker.
Examples
Speak
Ron spoke more loudly than I did.
Speak your heart out.
She speaks many foreign languages.
Talk
Are you talking to me?
Talk more politely.
I will talk to you later.
How to remember the difference
One major difference between speak and talk is that we do not use the word 'speak' to put stress on a conversation. So, when there is a normal conversation going on between two or more people we use the word 'talk'. Further, we only use the word speak when we refer to foreign or specific languages.